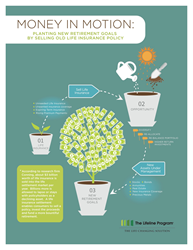 Atlanta, GA (PRWEB) November 19, 2014
Retirement expert and analyst William Scott Page, along with research firm Conning, have reported that about $3 billion in life insurance is annually sold through life settlements. The life insurance settlement market is expected to show continued growth through 2014 as well. This increased interest in settlements is raising prices in the market and increasing the benefits available to policyholders.
A life settlement enables a senior or retiree to sell existing life insurance for immediate cash, but not everyone is taking advantage of these trends to sell off unwanted life insurance policies.
As shown in the infographic, life insurance holders can sell unneeded or unwanted life insurance or expiring term insurance as life settlements. The proceeds can then be used to diversify, re-allocate and rebalance retirement portfolios.
The infographic also highlights how life settlement proceeds can be reinvested into other investment vehicles to help fund retirement such as:

Stocks and bonds
Annuities
Real estate
Precious metals
New insurance coverage
View infographic here.
About The Lifeline Program:
The Lifeline Program is a life settlement provider in Atlanta, Ga. Founded in 1989, the company offers the Life-Changing Solution assisting baby boomers, seniors and their families by purchasing unwanted or underperforming life insurance policies for immediate cash. The Lifeline Program actively educates and partners with insurance agencies, estate planners, financial planners, estate trustees and broker-dealers to establish life settlement business lines. For more information on The Life-Changing Solution offered through life settlements, contact Stephen E. Terrell of The Lifeline Program at 770-724-7300 or visit http://www.thelifeline.com. For press inquiries, please contact John P. David with David PR Group at 305-255-0035 or john(at)davidpr(dot)com.