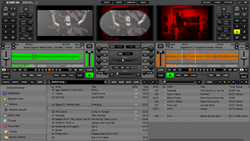 "DEX 3 is our best DJ software for DJs mixing all media types; music, music videos and karaoke" says PCDJ GM Ryan Sherr. "
Clearwater, FL (PRWEB) November 20, 2014
"DEX 3 is our best DJ software for DJs mixing all media types; music, music videos and karaoke" says Digital 1 Audio's General Manager Ryan Sherr. "The new 3.1 update focuses on strengthening many of the core software features such as the media file browser and DJ controller engine" Sherr Continues "MAC users are especially going to enjoy the update, as true 64bit MAC support is now a reality."
Here are some of the notable features and/or improvements in DEX 3.1:

Extensive performance optimizations and stability improvements
"List Mode" – The Library can once again resemble "Excel" instead of the "Word" default style in the current version 3.
Daytime skins added (and also modified master VU-meter color for the original skins)
Improved DJ Controller engine on MacOSX
Tags support greatly improved for both reading and writing (DJs can now edit tags for: MP3, M4A, MP4, WAV, AIF, FLAC, OGG, WMA)
Added compatibility with iTunes 12
Loaded tracks are "greyed out" (current session only)
For skins designers: jog-wheel artwork now possible (spinning or not, you can also use a mask for it)
Search improvements
On Macs DEX 3 is now 64-bit (MacOSX 10.7+)
PCDJ DEX 3.1's manufacturers suggested retail price is $179 (If you own an existing PCDJ software product call for special upgrade pricing)
For more product information and a free evaluation version of PCDJ DEX 3.1 please visit:
http://www.pcdj.com/dj-software/dex-3/
For marketing or dealer inquiries, Contact:
Digital 1 Audio
611 S. Ft. Harrison Ave., #317
Clearwater, FL 33756
877-999-7235 ext 105
rsherr(at)pcdj(dot)com
Recommended System Requirements:
Windows: 7, 8,or 8.1
MAC: OSX 10.8 or higher
2.5GHz Intel Core 2 Duo / Core 2 Quad / Core i3/i5/i7 / AMD Phenon
4 GIG RAM or Better
Video card: Dedicated graphics card with at least 512MB RAM
DirectX/ASIO compatible multichannel soundcard (Mac: multichannel Core Audio soundcard)
200 MB free on the hard-drive
Since 1999, Digital 1 Audio/PCDJ has been recognized as a leading developer and manufacturer of DJ and Karaoke live performance software. More than 80,000 professional DJs around the world now spin with their computer using one of company's entertainment products.