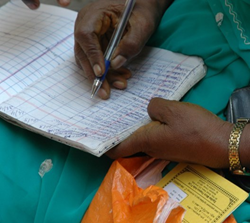 We are happy to join the 100 Million Project in working towards an end to extreme poverty
Washington, DC (PRWEB) November 20, 2014
The Microcredit Summit Campaign welcomes Grassroots Capital Management, PBC ("Grassroots") as the newest Campaign Commitment maker under the 100 Million Project.
Through the 100 Million Project, the Microcredit Summit Campaign leads a global coalition of organizations committed to specific, measurable, and time-bound actions to advance the Campaign's goal of helping 100 million families lift themselves out of poverty.
Paul DiLeo, founder and president of Grassroots, sees the 100 Million Project as a way of participating in a worldwide, collaborative platform to help lift 100 million families out of extreme poverty.
"Grassroots' activities are motivated by a belief that those blessed with abundant human and financial resources have an obligation to pursue economic justice and community empowerment both at home and globally. Our mission is to seek out and collaborate actively with others with shared values, and we are happy to join the 100 Million Project in working towards an end to extreme poverty."
Grassroots is a social impact investment manager based in the U.S. Its mission is to help eliminate poverty and strengthen communities through investments in small and micro businesses, affordable housing, sustainable agriculture, and affordable education in both developing countries and the U.S.
Grassroots also wants to provide private investors with effective, reliable avenues to devote a portion of their resources to these social investments and actively collaborates with others with shared values and approaches to create innovative and socially responsible solutions.
For over 10 years, Grassroots and its strategic partners have been leaders in the impact investment space. Starting with the first equity investment in an Indian MFI in 2001, they went on to help launch the first private microfinance fund of funds. Through this vehicle, they have been instrumental in the creation of many of the milestone microfinance investment vehicles. Together with its strategic partners, Grassroots and its predecessors have launched five funds since 2003 and are currently managing three impact investment funds.
Grassroots has announced its Campaign Commitment for 2015 as follows:

Launching a microfinance equity fund to support financial institutions that combine health, education, and other non-financial services with credit and pro-poor financial services to comprehensively support their clients and demonstrate improvement in the lives of the poor as they strengthen their own financial viability.
Expanding its advisory work with four more microfinance institutions (MFIs) to better integrate social performance management into governance by aligning directors and management around clearly articulated and measurable social outcomes targeted by the MFIs' social missions.
Continuing to focus on social performance with its current portfolio of nearly forty companies, working with them to successfully incorporate social performance management tools in order to measure their outreach and outcomes.
The Campaign looks forward to welcoming this new partner in the global coalition and sharing their progress towards the Commitment achievement at the 18th Microcredit Summit.
####
The Microcredit Summit Campaign (the "Campaign"), a project of RESULTS Educational Fund, is the largest global network of institutions and individuals involved in microfinance and is committed to two important goals: 1) reaching 175 million of the world's poorest families with microfinance and 2) helping 100 million families lift themselves out of extreme poverty. The 100 Million Project (focused on Goal 2) was launched in response to World Bank President Jim Yong Kim's call to end extreme poverty by 2030 and in recognition that full financial inclusion can only be achieved by targeting the extreme poor. The coalition of Campaign members announcing Commitments is aimed at motivating microfinance stakeholders to provide products and services that reach the extreme poor and facilitate their movement out of poverty.