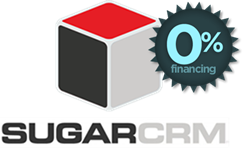 Topsfield, MA (PRWEB) November 19, 2014
SugarCRM, one of the industry leaders in CRM software and technology, will be introducing exciting new functionality in Sugar Enterprise 7.6 that currently retails for $20 per user per month.
With this new release, Sugar will be increasing prices for both Sugar Enterprise and Sugar Pro. Even with these price increases, Sugar is still one of the most cutting-edge, customizable and cost-effective CRM solutions on the market.
In order to avoid the price increase of SugarCRM, BrainSell is offering the following for current and prospective Sugar Customers:
1. Purchase 2015 SugarCRM licenses or multiple-year SugarCRM subscription license renewals before December 19, 2014. Early purchase or renewal eliminates you from paying the higher price next year. Payment for early renewals is due before December 19, 2014 and will extend your existing subscription date.
2. In addition to early renewal savings, BrainSell is offering zero percent financing on multiple-year Sugar Subscription Extensions for the remainder of this year to help you offset the price increase and maintain your lower cost. This also allows you to pay monthly rather than annually. Purchases must be made by December 19, 2014 in order to take advantage of both offers.
Reply to (sales(at)brainsell(dot)net) or your account rep at BrainSell today.
You can also contact BrainSell at this address:
http://www.brainsell.net/contact-us/
New SugarCRM price structure for 2015:
1. Sugar Pro will increase $5 from $35 to $40/user/month
2. Sugar Enterprise will increase $5 from $60 to $65/user/month
More details from SugarCRM:
If you have already renewed your subscription in Q4 2014, you may place a follow-on order for 1-3 more years of renewal by December 19 to lock-in pricing. 0% can be applied.
There is a price protection for additional seats during the price lock-in period for multi-year orders with the following conditions:
If you place a qualifying multi-year order to lock in pricing, any additional seats ordered during the lock-in period will qualify for the locked-in price.
The lock-in price for additional seats is not available for single year orders.
Contact Information:
Jordan Fraczek
Marketing Manager
BrainSell Technologies
978.887.3870x205
jfraczek(at)brainsell(dot)net