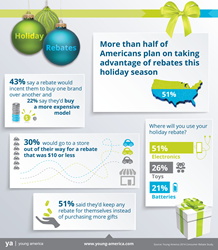 "The amount of the rebate doesn't need to be huge for people to participate," said Young America President and CEO Chris Behrens. "Our survey found that nearly 30 percent of people would go to a store out of their way for a rebate that was $10 or less."
Minneapolis, MN (PRWEB) November 19, 2014
Young America (YA), an industry market leader in delivering flawless multi-channel marketing promotions for the nation's most respected brands, today announced survey results that show 51 percent of U.S. adults plan on taking advantage of rebates this holiday season. That jumps to 66 percent if there are children in the household.
In addition, nearly half (43 percent) say a rebate would incent them to buy one brand over another and 22 percent say they'd buy a more expensive model.
"The amount of the rebate doesn't need to be huge for people to participate," said Young America President and CEO Chris Behrens. "Our survey found that nearly 30 percent of people would go to a store out of their way for a rebate that was $10 or less."
The survey found that the number one type of product for which survey respondents are most likely to use a holiday rebate is electronics (51 percent). Twenty-six percent said they'd use a rebate for toys and 21 percent would use a rebate for batteries.
And while it seems like rebates put survey respondents in the giving spirit, 51 percent said they'd keep any rebate for themselves instead of purchasing more gifts.
"These results show that incorporating rebates into holiday marketing promotions plans is a smart move for both retailers and those who produce a wide range of products this holiday season," said Behrens.
About the Survey
Ipsos Public Affairs surveyed more than 1,000 adult Americans on behalf of Young America in November, 2014.
About YA
For more than 40 years, Young America has been a leader in the promotional marketing services space. We deliver flawless digital, mobile and traditional promotions such as rebates/rewards, enter to win and loyalty programs for the nation's most respected brands. Our end-to-end management of 3,500+ promotions that reach tens of millions of consumers annually makes us experts at turning even first-time customers into loyal brand advocates.