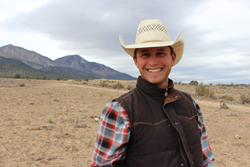 "Everything in those easements are good practices for raising our cattle as well as for the sage grouse." Bryan Masini
Reno, Nevada (PRWEB) November 19, 2014
South of the Lake Tahoe region in Nevada, the Masini family raises 2,000 yearlings on an irrigated cattle ranch under the shadow of the Sweetwater Mountains. Their property is an oasis in the desert, surrounded by hundreds of square miles of rangeland. It's a big draw for wildlife, and especially sage grouse.
Today, the Sweetwater Ranch has become a model of proactive conservation that's making a difference for the future of a distinct population of sage grouse that straddle the Nevada and California border.The Masinis' efforts to keep their private lands intact through conservation easements and to improve habitat quality for sage grouse dovetail with the Bi-State Action Plan and multi-partner commitments to prevent a need for a listing under the Endangered Species Act.
Bryan Masini runs the ranch with his wife, Sheila, their four children, his mother, Patricia, and his sister, Patti. In recent years, they have placed more than 4,150 acres in conservation easements to keep private land intact, preventing the potential for subdividing that would eliminate both future ranching and sage grouse habitat.
"The conservation easements will allow us to pass on the ranch to the next generations of Masinis," says Bryan Masini. "My grandchildren are 6th generation, and my children are 5th generation, and they're all involved in the operation of the ranch. Now we have a tool to preserve our place as a working ranch. The easements don't allow for any development, which is fine with us."
In addition to the easements, the Masinis have removed pinyon and juniper trees encroaching on historic sage grouse habitat, marked fences to prevent sage grouse collisions, and made changes to their grazing systems. The projects are funded through the Sage Grouse Initiative, a partnership led by the Natural Resources Conservation Service, and with contributions from other partners.
"The property is extremely valuable for sage grouse," says Tracey Wolfe, Yerington NRCS range management specialist. She adds that the birds inhabit the irrigated pastures in June, July, and August, raising their broods. While private lands form a small part of sage grouse habitat compared to nearby public lands, their value to sage grouse is high.
A recent study published by the Sage Grouse Initiative underscores the importance of wet meadows in private lands as the most favored place for sage grouse to raise their young. About 80 percent of the wet habitats are located on private land.
"We see the birds all the time," Masini says. "The first thing we see are the males --20-30 of them--in the spring during lekking season, and then we run into the hens and the babies in our irrigated fields during the summer. The chicks grow up pretty fast, and then they head off into the rangelands in fall."