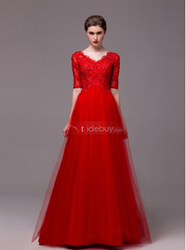 (PRWEB) November 19, 2014
Today, Tidebuy.com, a well-known wedding dress manufacturer and retailer, introduces its new collection of 2015 wedding dresses. The company's new assortment of 2015 prom dresses was already unveiled last week. Click here to see the new models: http://www.tidebuy.com/c/Prom-Dresses-2015-104286/
Tidebuy.com is announcing great discounts, up to 80% off, on all these new dresses. According to the sales manager of the company, more trendy models will be launched for the coming holiday season.
The wedding outfits from Tidebuy.com come in many hot styles, like sexy dresses, modest dresses, vintage dresses, plus size dresses, etc. All the dresses are offered at low prices now and people can buy the dresses easily with some clicks of a mouse.
"We are excited to release our new wedding dresses and prom dresses for 2015, and the new year is coming soon. These innovative outfits stand out due to their colorful hues and funky-yet-versatile designs. We are going beyond the traditional shopping experience to help visitors explore and discover new designs in the fashion industy." The sales manager says.
Tidebuy.com vows to spare no energy to provide a wide range of women's dresses for its clients. It is carrying a wide variety of women's outfits and fashion accessories. The sales manager adds, "The stock is limited. Those who want to buy new styles of wedding or prom dresses should visit our website as soon as possible. Our designs are known for their exquisite combination of comfort and style."
About Tidebuy
Tidebuy is a professional online supplier in the international market. The company offers thousands of extensive special occasion gowns and fashionable accessories. Also, it offers newest fashion information on its Facebook (https://www.facebook.com/tidebuy). Its hot items include wedding veils, wedding dresses, graduation dresses, shoes, bags and many others; they are all offered at acceptable low prices. The company has promised that all its items are provided with top-quality materials and fast delivery. For more information, just visit the website of Tidebuy.com.
More information can be found at: http://www.tidebuy.com/c/Wedding-Dresses-2015-104423/