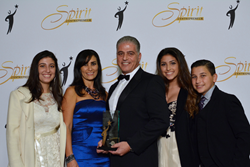 Behind every successful entrepreneur there is a whole team of dedicated people that helped him build the company
Rancho Cucamonga, CA (PRWEB) November 21, 2014
The black-tie gala event, attended by 760 guests, saw 27 finalists vie for the highest honors in nine categories. Sayegh won in the Most Innovative category, but minutes later also won the Best of the Best Award, taking home two honors in one night.
Sayegh started his business in his garage in 1995. Today—19 years and over 100 patents later—USS is the largest privately-held company in its industry, providing loss prevention solutions to some of the nation's largest retail chains. The company is recognized throughout the retail world for its innovations, such as the small GPS trackers that can locate stolen merchandise; video surveillance systems that can recognize faces of known thieves; and wireless cameras for police dogs that allow officers to see on their smartphones what the dog sees when pursuing suspects or searching for missing persons.
The Spirit of the Entrepreneur Awards program was founded in 2003 by the Inland Empire Center for Entrepreneurship (IECE) at California State University San Bernardino. "The entrepreneurs selected represent the 'best of the best' in terms of overcoming obstacles, believing in their dreams, taking risks, and persisting in the face of long odds," said Mike Stull, the program director. "They embody a spirit - the Spirit of Entrepreneurship - that is the hallmark of this great country."
This is a second major recognition for Sayegh in as many months. In October he received an award from California Peace Officers Association for working to improve the safety of police officers using his company's technology.
For more information contact:
Bané Obrenovich
Marketing & Communications Manager
USS
(909) 484-7870 ext. 326
Bane(AT)universaleas dot com