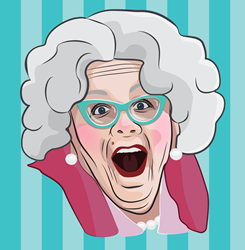 My goal is to give you the kitchen confidence you need, along with some jolly good laughs. Like I always say: 'Good mood, good food.'
New York, NY (PRWEB) November 19, 2014
Blend Julia Child, Graham Kerr and Betty White, and the result is a cooking show personality who is a welcome throwback to a gentler era of food programing. Mrs. Ruby Tips is a seasoned sexagenarian and self-taught chef who cooks with passion and a dash of humor. This week Ruby launched http://www.mrsrubytips.com, where she brings the fun back into cooking through video segments, recipes and solutions for culinary kerfuffles.
Ruby's experience ranges from griddle to gourmet. She serves up dishes for all palates and skill levels, peppered with helpful substitutions, can't-go-wrong advice, and a lot of laughs. The debut video on Ruby's website offers novel Thanksgiving cooking tips – and features a 180-pound turkey.
"I want to inspire beginners, heal the brokenhearted, reinvigorate curious cooks, and motivate people to get in the kitchen.," said Ruby. "In my weekly videos, I offer one main recipe, along with two variations to keep things interesting. My goal is to give you the kitchen confidence you need, along with some jolly good laughs. Like I always say: 'Good mood, good food.' "
A saucy gal who grew up during the lean years in post-war England, Ruby learned early on to make do with what she had. Working at a café gave Ruby a taste of what it was like to work the griddle. After marrying Dick, a classically trained chef, she teamed up with him to open a deli in Liverpool.
The happy couple spent the next two decades serving gourmet food with a twist. They sold the restaurant and retired in the late 1990s. Sadly, Dick got restless a few years later, and Ruby has been on her own since then.
"Without Dick, I've found the courage to push my boundaries, share my tips, and gain confidence in the kitchen," said Ruby. "Now, I'd like to share my joyful cooking and prove that no dish is too intimidating and nothing is off limits. "
Ruby always dreamed of living in America. The dream came true earlier this year when she migrated to Chicago. It has been an exciting and slightly overwhelming experience. So Ruby channeled those emotions into creating the website and penning her first cookbook, Cooking Without Dick, scheduled for release in the spring of 2015.
For more information or to schedule media interviews, please contact Ariane Sloan ariane(at)socialflyny(dot)com/917.565.2204
Connect with Mrs. Ruby Tips