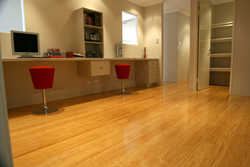 (PRWEB) November 23, 2014
BambooFlooringChina.com, the world's leader in bamboo flooring, has recently released its new click strand woven bamboo flooring collection. Now, the business is announcing big discounts on these new models. According to the company's CEO, the promotion is valid until Dec. 20, 2014.
The new click strand woven bamboo flooring comes with a smooth and dust-free surface, which makes it very easy to maintain. As one of the leading companies in the industry, the company wants to make its website the best shopping platform for people who are looking for great bamboo products. Its professional customer service department is always online to provide related help.
"We use natural bamboo to make our high quality flooring through our proprietary process. We take pride in providing trendy natural bamboo flooring to the global customers. Now, customers worldwide can enjoy the top quality and price discounts we provide. Our staff is ready to ensure buyers that they can receive the most professionally made products," the CEO adds.
About BambooFlooringChina.com
BambooFlooringChina.com has been making high quality bamboo products for many years. It is selling a huge selection of elegant items for the international customers: strand woven floorings, lumbers, outdoor deckings, plywoods, fences and so on. The company always strives to benefit all its old and new clients; its top designers are working hard to make more durable items.
For more information about its new items, customers can visit: http://www.bambooflooringchina.com/.