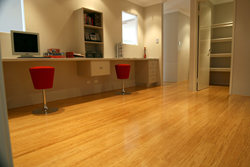 (PRWEB) November 29, 2014
BambooFlooringChina.com has been recognized as a leading supplier and exporter in the bamboo industry. Recently, the business has announced its new strand woven bamboo flooring collection, and it is offering big discount on these new models.
Based on the website, strand woven bamboo flooring is scraped by hands, without carpenter machines involved. It is crafted on strand woven bamboo with a click-lock application. It is great for do-it-yourselfers without hard work on installation, also available in multiple colors.
"Our strand woven bamboo flooring products' development and innovation are based on the growing demand of European and American markets. Our new designs of products are leading the global market to a correct and more environmentally friendly way of life," the CEO of the company says.
Each piece of the strand woven bamboo flooring from this company comes with its own character and individuality. This means each piece of hand scraped bamboo flooring is not uniform, but unique in appearance.
BambooFlooringChina.com is certified by the ISO9001:2000 systems and has a special team in charge of the "5S" management system to keep production quality stable It strives to bring its customers the latest styles and innovations of bamboo products.
About BambooFlooringChina.com
BambooFlooringChina.com has been making high quality bamboo products for many years. It is selling a huge selection of elegant items for the international customers: strand woven floorings, lumbers, outdoor deckings, plywoods, fences and so on. The company always strives to benefit all its old and new clients; its top designers are working hard to make more durable items.
For more information about its new items, customers can visit: http://www.bambooflooringchina.com/.