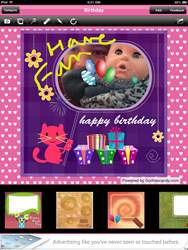 "It is estimated that we will take close to 900 billion photos this year"
Elk Grove, CA (PRWEB) November 19, 2014
It is estimated that we will take close to 900 billion photos this year, ranging from selfies to pictures of one's family, friends and pets. The agile team at gotfreecards.com offers users a way to turn some of these pictures into photo cards. The release of the Photo Card app could not have been timed better. With Thanksgiving and winter holidays around the corner, users are expected to take advantage of this free iPhone/Android app to exchange greetings and messages with their kin.
Users can choose from a range of background templates and photo frames before importing and editing their own photo to create their photo card. The app allows users to personalize their cards further by adding e-stickers and their personalized text message. The photo cards is then ready to be shared over Twitter, Facebook or via email. For a website that has been adding new features and dozens of free ecards each holiday season, the Photo Card app comes as no surprise. For those who like to do more with their photos than merely post them on social media, the latest app from the free ecards site takes photos one step further to be shared in a fun and personalized manner.
GotFreeCards.com has been creating free ecards with innovative, online personalization features since 2008. The company's offerings include free ecards, personalized photo cards, printable birthday cards, invitations and various other user-friendly features and products related to special occasions, events and holidays. The website includes hundreds of designs for various multicultural and everyday occasions such as Free Christmas Cards, Thanksgiving cards, New Year's ecards and others.