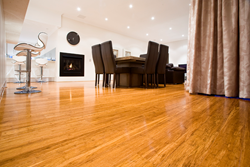 (PRWEB) November 26, 2014
Recently, BambooFlooringChina.com, a leading bamboo lumber supplier, has announced its solid bamboo flooring promotion with great discounts, up to 28% off. The promotion is valid until Dec. 15, 2014.
BambooFlooringChina.com specializes in high-quality bamboo products, including bamboo floors, bamboo mats, bamboo carpets and more. Solid bamboo flooring is harder than most wood because of its high density - e.g. 750 kg/m3 (horizontal and vertical bamboo lumber) and 1200 kg/m3 (strand woven bamboo lumber).
BambooFlooringChina.com's solid bamboo flooring comes in a variety of dimensions and lengths. The colors can be natural, caramel and more. The CEO of the company says, "We have large quantities of solid bamboo flooring in stock now, and we can make the products according to your requirements. Being confident of our bamboo engineers and their rich experiences, we highly recommend our bamboo products to customers around the world."
BambooFlooringChina.com is certified by the ISO 9001:2000 systems and has a special team in charge of the "5S" management system to keep production quality stable. It strives to bring its customers the latest styles and innovations of bamboo products.
About BambooFlooringChina.com
BambooFlooringChina.com has been making high quality bamboo products for many years. It is selling a huge selection of elegant items for international customers: strand woven floorings, lumbers, outdoor deckings, plywoods, fences and so on. The company always strives to help all of its old and new clients. Its top designers are working hard to make more durable items.
For more information about its new items, customers can visit: http://www.bambooflooringchina.com/.