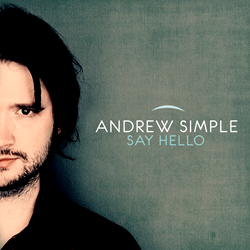 Global brands like Starbucks are using the viral popularity of Andrew Simple's music to connect with consumers in a meaningful way...
Nashville, Tennessee (PRWEB) November 19, 2014
Music artist Andrew Simple may have actually made music industry history with an unprecedented string of commercial placements specifically drawn from his new album, "Say Hello" – a remarkable feat, as the album has yet to be officially released. Already a distinctive voice on the forefront of the indie music scene, Simple's handcrafted songs have become a viral phenomenon, featured in national and international big brand campaigns by Starbucks, Kay Jewelers, Canadian Imperial Bank of Commerce (CIBC), and others.
Starbucks handpicked the title track from Andrew Simple's forthcoming album, "Say Hello," to be the focal point of their first worldwide brand campaign titled, "Meet Me at Starbucks," which launched October 6, 2014. The feature video spot of "Say Hello" immediately met with critical reception by fans of the coffee giant around the globe, amassing over 1.3 million views on its official YouTube account, while the song is in heavy rotation in all Starbucks stores across the United States.
Less than a month after the coffee mega-giant launched their campaign, the #1 jewelry brand in the United States, Kay Jewelers, inaugurated a vigorous new marketing strategy featuring Andrew Simple's heartwarming single release, "You Shine." The cornerstone of Kay Jewelers' new brand-and-artist integrated campaign, Andrew Simple's performance of the song is prominently showcased through virtually all of the company's promotional broadcast channels, with a forthcoming feature at New York City's famed Rockefeller Center Christmas Tree Lighting ceremony on December 3, 2014, and an exclusive live performance and interview via the ION network.
Specific details of Andrew Simple's "Say Hello" album are not available – especially the actual release date; however the artist's Nashville-based management team at peermusic have recently stated the highly anticipated album will see a release during the coming holiday season.
Peermusic's Vice President / Director of Advertising Markets, Craig Currier, states, "Andrew Simple's overwhelming success in the indie music genre as both tunesmith and performing talent demonstrates that people of all ages and walks of life continue to hunger for music they can identify with – live moments of their life with – people around the world are thirsty for Andrew's obvious authenticity." Currier points to the viral success of CIBC's use of Andrew Simple's "Picture Perfect Day" on YouTube: the Canadian banking juggernaut's recent 30-second spot has garnered nearly 3 million views.
As Simple's "Say Hello" single continues to surpass even digitally viral benchmarks, the Nashville-based singer/songwriter is pleased to invite fans and press into his life behind-the-scenes, often posting candid videos from the studio and other engaging content on his website, AndrewSimple.com, and official social media accounts: twitter, facebook, and YouTube.
Press kits including a current biography, hi-res images, music samples, and HQ Video Trailers are available by request. Requests for interviews, appearances, and photo ops should be directed to Andrew Simple's management assistant, Heather Cook, via email: hcook@peermusic.com. Bloggers with credentials and members of press may request a copy of the forthcoming "Say Hello" CD for review.
ABOUT ANDREW SIMPLE:
The music industry's top brass refer to performing artist, Andrew Simple, as "the definition of a true songwriting and production master." His songs effortlessly tap into the fundamentals of humanity; the all too uncommon notion of pulling together to work toward a common goal. Often favorably compared with Mumford & Sons, The Lumineers, John Mayer, and Fleet Foxes, Andrew Simple's hallmark Indie/Folk music sound truly breaks stereotypical boundaries, resonating at a popular level.
Signed as an exclusive writer for global independent music publisher, peermusic, Andrew Simple has rapidly become the creative "well" from which scores of major Film, Television, and Advertising campaigns draw their inspiration from, actually framing many of their projects around his infectious music. Simultaneously handpicked to launch Starbucks' first global brand campaign and Kay Jewelers' new marketing strategy, Simple's recent career highlights in the Film, Television, and Advertising arenas include placements in the new "Gotham" series trailer (FOX), Belk, T-Mobile, Subaru, Microsoft Windows, Dr. Pepper, and the "Muppets Most Wanted" Trailer.
Contact:
Heather Cook
peermusic – North America
Office: 615-921-3973
HCook(at)peermusic(dot)com