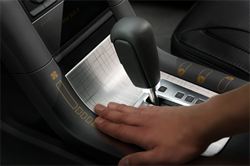 Touch has recently become the dominant user interface for tablets, smartphones and other consumer products. One of the remaining challenges for product designers is to build touch sensors into formed or back-molded plastic parts
Santa Clara, California (PRWEB UK) 19 November 2014
"Touch has recently become the dominant user interface for tablets, smartphones and other consumer products. One of the remaining challenges for product designers is to build touch sensors into formed or back-molded plastic parts," said Dr. Erkki Soininen, Vice President of Marketing and Sales at Canatu. "This is especially challenging when those parts involve 3D-shaped curved surfaces. Canatu now has a solution to this design challenge. CNB In-Mold touch sensors free user-interface designers from the flat-surface paradigm, making responsive touch on 3D surfaces a reality."
CNB In-Mold Film is stretchable up to and beyond 100% and can be easily formed and back-molded using standard industrial processes such as Film Insert Molding (FIM). This means that CNB touch sensors can be produced in almost any shape, from smooth spherical domes to sharp edged casings with recesses and bulges.
With CNB In-Mold-based touch sensors, mechanical buttons in automotive dashboards, portable and wearable devices, washing machines, clothes dryers, dishwashers, ovens and other appliances can be replaced with a robust water- and dust-proof 3D-formed touch user interface.
CNB In-Mold Film-based touch sensors give original equipment manufacturers (OEMs) and system integrators the means to build transparent touch on 3D formed devices.
What is offered:

Thermoformable Material – supports local stretchability up to and over 100% while maintaining high levels of conductivity
Industry-standard Forming and Injection Molding Processes – lets manufacturers create touch surfaces in any imaginable shape
Polycarbonate (PC) Substrate – industry-standard low-cost substrate material, making it well suited for high aspect ratio, deep-draw 3D shapes
Green Carbon Technology – no toxic wet chemistry or harsh pollutants, offers an environmentally friendly solution
Technology Foundation
Canatu's CNB In-Mold Films are based on a proprietary new carbon nanomaterial, Carbon NanoBud®, which is not limited by the brittleness or metal fatigue associated with more traditional indium tin oxide (ITO) and metal mesh structures, and therefore allows stretchability and 3D forms. Carbon NanoBud provides numerous advantages in mechanical, electrical, chemical and optical properties over traditional nanotubes, making it ideal for a wide range of touch applications.
CNB Film Family
CNB In-Mold Film belongs to Canatu's CNB Film product family, consisting of transparent conductive CNB Hi-Contrast Film optimized for flat projected capacitive touch devices; CNB Flex Film optimized for wearable, flexible and foldable touch-enabled electronics devices; and CNB In-Mold Film, which is targeted at 3D capacitive touch surfaces in smartwatches, white goods control panels, automobile center consoles and dashboards, connected user interface devices, and portable electronic devices.
Demonstrators at Printed Electronics USA
Canatu will demonstrate touch applications based on its CNB In-Mold Film during Printed Electronics USA, Santa Clara, California (November 19-20, 2014). For more information, please contact: press(at)canatu.com.
For More Information
CNB In-Mold Film is currently available from Canatu. For additional information, please contact: Erkki Soininen, Vice President, Marketing and Sales, Canatu Oy, tel. +358-40-574-1504, erkki.soininen(at)canatu.com
About Canatu
Canatu is a leading developer and manufacturer of transparent conductive films and touch sensors for an entirely new class of touch applications. Canatu's transparent conductive films and touch sensors are based on a new type of carbon nanomaterial (Carbon NanoBud®), and a new, single-step manufacturing process combining aerosol synthesis of CNB material and Roll-to-Roll deposition by Direct Dry Printing®. Canatu offers automotive, home appliance and consumer electronics companies the ultimate design freedom with its innovative products.
Carbon NanoBud, Direct Dry Printing and Canatu are registered trademarks, and CNB is a trademark of Canatu Oy. All other product and company names are trademarks or registered trademarks of their respective holders.