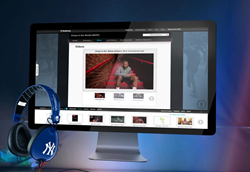 AMP bridges the gap between our global offices, internal departments and B2B relationships.
IRVINE, Calif. (PRWEB) November 25, 2014
The youth audio accessories lifestyle company, Skullcandy, today announced that it has partnered with Irvine-based 24 Productions Inc. to organize, process and distribute all of its marketing media assets with an integrated, next-generation cloud platform. 
The Advanced Media Portal™ (AMP), created by 24 Productions, is a cloud-based media engine that optimizes organization, storage, processing, customization and distribution of a company's diverse marketing assets. It will serve as Skullcandy's primary digital management service for all of its marketing assets, from Skullcandy product and lifestyle images to videos, merchandising and social media.  
"Overnight, AMP's intuitive interface, coupled with its broad range of functionality, has already resolved some major internal conflicts and issues," said McKenna Taylor, Skullcandy's Marketing Creative Manager. "AMP bridges the gap between our global offices, internal departments and B2B relationships."
Skullcandy, which was founded in 2003, has amassed marketing media for hundreds of products under four distinct brands: Skullcandy, Skullcandy Gaming, ASTRO Gaming and 2XL. Skullcandy tested the Advanced Media Portal for a six-month trial period, with both internal and external users, and began receiving positive feedback almost instantly. "We couldn't be happier with the AMP portal," Taylor said. "We feel strongly that it is suitable for any company looking for a way to effectively manage media assets and maintain brand consistency."
Ken Garff, founder of 24 Productions and developer of AMP, said the rapidly expanding scope of marketing has placed a media logistics burden on creative and marketing departments. "We observe well-known and respected companies making significant investments—sometimes spending millions creating brand and product marketing media. But, unfortunately, many of those companies suffer major efficiency bottlenecks when it comes to managing and delivering those same media assets. Delivering late to partners, making assets hard to find, and distributing them in formats that are difficult to leverage are common occurrences, even at the best companies," Garff said. "This is the reason we created a marketing-specific and digital asset management solution that is also very intuitive and easy to use." 
As a web-based system, AMP offers seamless updates so the software is never outdated, and companies can easily adapt to emerging media formats and trends. AMP also tracks asset consumption, so creative teams can see what media is most successful in driving campaigns. "Things are moving quick in marketing today, so AMP helps map and automate the delivery of media in formats that are customized for each partner," said Garff. AMP's streamlined flow of organizing, converting and sharing digital assets aims to take the pain out of digital asset management. Garff concluded, "Skullcandy wanted to get more value from their media investments and do it with less effort—we are very happy to deliver on that promise."
Advanced Media Portal™ is available for a demonstration upon request. For more information, or to schedule an interview with AMP founder Ken Garff, please contact Paul White at (949) 300-2624 or pwhite(at)24productions(dot)com.
About 24 Productions, Inc.
24 Productions, based in Irvine, California, is a marketing technology provider offering applications and data-driven solutions. 24 Productions helped to pioneer the syndicated delivery of manufacturers' marketing content across many of the world's top retail sites, including Walmart.com, BestBuy.com and Amazon.com. 24 Productions is known for its ability to merge good creative and code-based solutions. Key products include B2B & B2C mobile applications and the Advanced Media Portal™ enterprise marketing asset management solution. Clients include Toshiba, Taco Bell, D-Link, Kensington, Hilton, Bosch, HP, Experian and others. For more information, visit amp-portal.com and 24Productions.com.
About Skullcandy, Inc.
Skullcandy is the original performance audio lifestyle brand inspired by the creativity and irreverence of youth culture. Based in Park City, Utah, Skullcandy designs, markets and distributes audio and gaming headphones and other accessory-related products under the Skullcandy, ASTRO Gaming and 2XL brands. Since its founding in 2003, Skullcandy has become one of the world's most distinct audio brands by bringing unique technology, color, character and performance to an otherwise monochromatic space, and helping to revolutionize the audio arena by introducing headphones, earbuds and other audio and wireless lifestyle products that possess unmistakable style and exceptional performance. The company's products are sold and distributed through a variety of channels in the U.S. and approximately 80 countries worldwide, including the company's website at skullcandy.com.