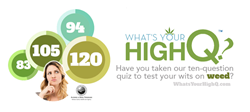 "What's Your HighQ?" endorses neither prohibition nor legalization. What's Your HighQ? simply seeks to ensure that parents understand and protect the health of our teens." -- Patrick Zarate, Ventura County Behavioral Health
Thousand Oaks, CA (PRWEB) November 19, 2014
Ventura County Behavioral Health in partnership with Ventura County Public Health today kicks off a new teen-health educational initiative to ask parents a simple question: If You Got The Facts Down, Would You Still Let Your Kid Get High? Extending from How High Ventura County, a local Southern California effort to educate parents and adult residents about the long-term damage marijuana can cause to the still developing teenage brain, Ventura County health leaders invite parents nationwide to go online and take the test: What's Your HighQ? (TM) – a ten-question quiz to test your wits on weed.
What's Your HighQ? is a first, easy step parents can take to learn about today's weed. The quiz aims to educate parents about IQ loss, memory loss, cognition deficits, mental health issues and other harmful implications that may arise if one begins smoking weed as a teenager. The urgency is real. Nearly one in five high school seniors nationwide has smoked weed in the past month; and one in six who smoke weed as teens will become addicted.
"We created "What's Your HighQ?" to inspire parents to think differently about weed and the teenage brain. Whatever we establish in the coming years as it pertains to policy and ordinances, we must protect the health of our kids, and ultimately the health of any residents who have to make a choice about marijuana."
"We all know weed isn't heroin. But here's the thing. Weed does disrupt and forever alter the still-developing teenage brain. Parents: If you got the facts down, would you still let your kid get high?" asks Daniel Hicks, a father of two teenagers, and Manager – Prevention Services, Alcohol & Drug Programs Division (A.D.P.), Ventura County Behavioral Health.
"What's Your HighQ?" endorses neither prohibition nor legalization," explains Patrick Zarate, Division Manager for A.D.P. "What's Your HighQ?" simply seeks to ensure that parents understand and protect the health of our teens."
To learn the facts about marijuana and the still-developing teen brain, or to simply test the knowledge of your own brain in the new "What's Your HighQ?" quiz, visit us at: WhatsYourHighQ.com. For residents of Ventura County, please visit us at HowHighVenturaCounty.org.
###
Ventura County Behavioral Health (VCBH) promotes recovery, hope and resiliency by providing coordinated mental health, and alcohol and drug services to meet the needs of Ventura County residents with mental health and/or substance abuse issues. VCBH is a department of the Ventura County Health Care Agency.
The Ventura County Health Care Agency serves and upholds the health of Ventura County residents, encompassing not only Behavioral Health, but Public Health, two hospitals, Ventura County Medical Center (VCMC) and Santa Paula Hospital, an ambulatory and specialty care clinic system, a health care plan, Emergency Medical Services, Animal Services and the Medical Examiner's Office.
JAMS is a boutique integrated marketing firm based in Los Angeles (jamstories.com). JAMS's specialty practice Triage Health (triagehealth.org) is dedicated to devising innovative, engaging and measurable health care solutions for our nation's leaders who fight each day to improve health outcomes.