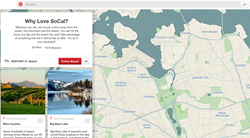 David Romero is a visionary and we truly enjoy the relationship with him and his team," says Jose Perez, Founder and President of PCMS Consulting.
Los Altos, CA (PRWEB) November 20, 2014
Southern Californian brokerage, CENTURY 21 Award, was presented the RISMedia Tech Titan Award at the RISMedia Power Broker Dinner during the National Association of Realtors conference November 8 in New Orleans.
The Tech Titan Award is presented to brokerage leaders who have demonstrated an exceptional ability to adapt and integrate new and innovative tools and services within their organization to improve and enhance the overall consumer experience. David Romero, President of CENTURY 21 Award, thanked his team for their hard work, stating:
"I'm proud and honored to accept this recognition. This is about our team and I'm so proud of them." He went on to thank Terabitz for their efforts. "Our long term web marketing platform partner, Terabitz, also played an important role in helping our team earn this award. Ash, Farhana, Annie, and Jose are always there for us and we truly appreciate our partnership."
CENTURY 21 Award, a Terabitz client since 2009, recently launched a complete redesign of their brokerage website. Some feature highlights of the exciting consumer-driven enhancements in their redesign include: Fully responsive design; As smartphone and tablet adoption rapidly increases, so does the importance of responsive design. Responsive design is recommended by Google, which prefers the best practice because content is much easier for users to share, interact with, and link to; Completely redesigned landing page which caters to the increasing sophistication of online consumer. A well designed, visually appealing landing page is easy to use and converts browsers into buyers; Newly enhanced award-winning map search. Terabitz neighborhood search creates multiple map layers that enables consumers to drill down and receive specific information based on criteria set by the searcher, focusing only on the neighborhoods that interest them; A new Youtube channel that includes a robust library of videos focused on home ownership;and, New lifestyle search integrated with Pinterest. Using lifestyle search with this popular social channel, clients are exposed to a robust amount of information and are able to share with their family and friends. Pinterest integration also provides another method for agents to learn what best suits their clients.
PCMS Consulting has exclusively represented Terabitz since 2009, working hand-in-hand with clients both pre and post-sale. "David Romero is a visionary and we truly enjoy the relationship with him and his team," says Jose Perez, Founder and President of PCMS Consulting. "We are committed to developing positive, productive, and profitable relationships where everyone wins — our broker clients and their agents, our technology partners, and most importantly, the consumer. Because we're selective about the products we choose to represent, we garner the trust of our clients and help our technology partners grow their businesses."
ABOUT Century 21 Award
Century 21 Award is a Southern California real estate brokerage providing residential real estate, investment and commercial properties, property management, and relocation services. They have 15 locations with over 900 agents. The company earned the #1 CENTURY 21 Worldwide award for 2003-2010.
About Terabitz
Terabitz is a technology company located in the heart of Silicon Valley founded by tech industry veteran and real estate consumer Ashfaq Munshi. Terabitz is focused on helping brokerage clients be more competitive with the large real estate portals so that brokers view their web platform as a profit center that drives and engages an ever more savvy internet consumer.