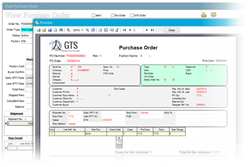 Kirkland, WA (PRWEB) November 25, 2014
Global Trading Systems, Inc. (GTS), a leading product lifecycle management solutions provider for the footwear, accessories and apparel industries, announced today that it has entered into a License Agreement and successfully implemented a new Order and Sourcing application called StyleSource with Snowden Brothers; a footwear design and sourcing firm headquartered in Seattle, WA.
Founded in May of this year by industry veterans Bill and Rick Snowden, the brothers are teaming up with GTS again; this time to develop an affordable and intuitive solution for fashion footwear sourcing. The application, called StyleSource can be delivered stand-alone or as a module within the SoftShoe or SoftShoeStyle PLM solutions. It includes a simple Product Catalog, Sales Order Management, Production Order Management and Tracking.
According to Janet Amico, GTS President and co-founder, StyleSource offers small and mid-range companies in the business of designing and delivering footwear to retailers and brands an industry-tailored solution with critical sourcing functionality. "We are very excited about this Agreement and working with the Snowden's again. They understood early on the need for technology to support sourcing operations and customer service. With StyleSource, there is an opportunity to scale up and integrate SoftShoeStyle or SoftShoe; our PLM solutions for the footwear industry," Ms. Amico commented.
"We knew before we started that we needed a sound IT infrastructure," said Bill Snowden, CEO of Snowden Brothers. "We are confident in selecting GTS again as we share the same values of innovation, quality and customer care," he added.
Janet also pointed out: "StyleSource was designed from the beginning to be intuitive, easy to implement and require few IT resources. I am proud to announce that, in contrast to the many extended and over-budget projects in the industry, StyleSource is already live at Snowden Brothers utilizing cloud hosting from Amazon Web Services."