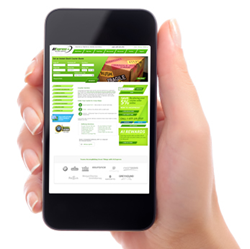 Atlanta, GA (PRWEB) November 20, 2014
A-1 Express, a recognized leader in same-day delivery, messenger and distribution services, announces the A-1 Express Mobile App for same-day courier services. The courier service makes the announcement in an effort to offer more value-added services to its' customers on-the-go, expand its' current customer base and increase online courier orders. A-1 Express strives to be the best choice for courier logistic services and solutions throughout the US.
The A-1 courier mobile app enables customers to request same-day delivery services from where they are and more. The app offers quick quote options, package tracking, ship an item, and an "About Us" page to learn more about A-1 Express courier services. The A-1 Express app will automatically appear from a mobile device when visiting the courier's web site. Customers have the option for desktop viewing, which they can simply click "View Desktop Site" and be linked back to the standard desktop view preference.
The mobile app creates more convenience for one-time courier users and account holders, who can log in right from their mobile device and place an order. For today's business world, the Seattle courier made the mobile app to be easy to use and offers the mobility that customers demand. The A-1 Express mobile app further promotes the courier's brand of speed, which orders can be performed within hours of a customer's request.
For questions relative to a mobile app order, customers are recommended to contact A-1 Express and a representative will assist promptly with their mobile app usage. The courier is available 24/7 for address adjustments, tracking assistance, recipient changes and other same-day delivery needs.
A-1 Express is a recognized leading same-day courier for same-day delivery, transportation and distribution services. A-1 Express manages a growing list of 1,500 clients nationwide and takes great pride in providing the highest level of courier services. From individuals to Fortune 500 Companies, A-1 Express has the logistical expertise to create courier solutions and on-time delivery execution. A-1 Express pursues to utilize the best in modern, courier technology to be the premier courier service provider nationwide.