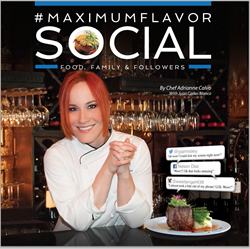 MIAMI, FL (PRWEB) November 19, 2014
Award-winning culinary artist, Chef Adrianne Calvo will unveil her third book at the end of November titled, #MaximumFlavor Social. This is the first, cutting edge cookbook of its' kind to pioneer the realism of social media from the personal side of a chef. Culinary enthusiasts and fans will not only view more than 75 recipes but, also discover how social media has been a platform to connect with her followers, not just in the kitchen. Calvo, who's authored two other cookbooks, states that this has been the most anticipated release yet. Chef Calvo said, "It's been one of the most exciting projects in my life! The journey of writing this book, recipe tasting and compiling memories has been unreal, and I can't wait to share it with everyone. After a year of research, I know there's no book like this out on the market yet, so it feels incredible to share a literary piece that's a little different." Between research, writing, and recipe testing, Maximum Flavor Social, has taken just under two years to create.
The revolutionary sensation will feature Facebook, Twitter, Instagram comments from her fans alongside some of the recipes that Chef Adrianne refers to as the "greatest hits" from her highly acclaimed restaurant, Chef Adrianne's Vineyard Restaurant and Wine Bar. Readers will also learn how to replicate memorable dishes derived by her radiant and exquisite cooking style known as, Maximum Flavor. This rebellious and comprehensive culinary ride is the first cookbook to dig deeper into what social media represents to a chef, entrepreneur, and philanthropist giving readers an inside look at the creative process, posting, reactions, and how the culinary mastermind behind it, assimilates it all. Before the holiday season, it will be available to purchase as an E-Book, Amazon, and book stores (Hardcopy: $34.99, Paperback: $29.99).
About Chef Adrianne Calvo
Since 2007, Chef Adrianne Calvo has been the chef-owner of her award winning restaurant, Chef Adrianne's Vineyard Restaurant & Wine Bar. She regularly stars in her cooking segment "Maximum Flavor" on Miami's NBC 6 in the Mix and is currently featured on the online series by Foodable TV, Food As a Lifestyle. Calvo has showcased her remarkable culinary skills in countless segments for Clear Channel, Univision and appeared on Food Network's Hit Series, Chopped. Prior to authoring #MaximumFlavor Social, her other publications are Maximum Flavor and Driven by Flavor Fueled by Fire. Calvo has contributed her efforts to many charitable organizations including St. Jude's Children's Research Hospital, Susan G Komen, and the American Cancer Society. She also started the "Make It Count" foundation which benefits children suffering from cancer and their families.
In 2004, Chef Adrianne graduated from the top of her class at Johnson & Wales University. The culinary superstar won the Australian culinary competition "Taste Down Under" two years in a row and the national chef competition "Master Holiday Chef Challenge." This year, The Floridian Awards III and the Miami New Times named Chef Adrianne Calvo "Best Chef."