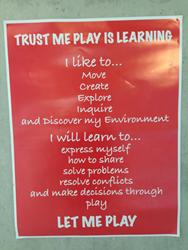 Play is truly an integral part of learning, and is the start of the children's lifelong learning journey.
LAUSANNE, Switzerland (PRWEB UK) 19 November 2014
Crafting letters out of play dough, baking mini apple pies, developing their own versions of the story "Three Little Pigs" and creating the pigs' houses out of different materials, and measuring with water are just a sample of some of the play-based activities that the International School of Lausanne's (ISL) youngest pre-school-aged children engage in every day.
In celebration of Universal Children's Day on 20 November, ISL held two Open Days (Wednesday 19 and Thursday 20 November), complete with workshops titled "Trust Me, Play is Learning" to demonstrate to parents how children learn best and develop through a range of activities organised around play.
According to Jonathan Twigg, the Assistant Principal and IB Primary Years Programme Coordinator at ISL, "These play-based activities, in fact, are real learning experiences for children in this three to five-year-old age category, offering them the chance to build relationships with other children. The pre-schoolers also learn to resolve conflicts, regulate their behaviour and negotiate. What we have found, too, is that the children have feelings of success and optimism when engaging in activities they enjoy. Play is truly an integral part of learning, and is the start of the children's lifelong learning journey."
Kim Goetschel, the Early Childhood Centre Coordinator at ISL, also touched on research showing that brain development is even enhanced through play, citing Lester & Russell (2008) …Play creates a brain that has increased 'flexibility and improved potential for learning later in life.'
"Providing life-long learning experiences and stepping stones for children to thrive later in life is one of the missions of ISL," said Mrs. Goetschel. "This is accomplished through the IB curriculum which starts in the Early Childhood years through play, and spans Primary, Middle and Secondary years at ISL."
During the workshop, Mr. Twigg went on to explain that physically active play allows children to test and develop all types of motor skills and promotes significant health and well-being benefits. Besides these activities, ISL students also have formal physical education three times per week, as well as swimming, skiing, ice skating, depending on their year level.
Creating opportunities for students to learn in and out of the classroom was a core consideration when ISL decided to create a new Early Childhood Learning Centre which recently opened for the 2014-1015 academic year. Mr. Twigg spoke about ISL's expansion and explained that it was planned specifically "to ensure children have a range of environments – the physical, social and emotional, intellectual and temporal – in which to play and learn in."
Parents attending the workshop also went on a tour where they saw first-hand the holistic approach to education offered by ISL to its youngest students.
The custom-built facility comes equipped with spacious airy classrooms designed with light Swedish wood to maximize the feeling of calmness, while minimizing noise. Each of the classrooms opens up to outdoor learning spaces which the teachers regularly make use of. A kitchen designed for children is used weekly during baking classes, as is the gym and multi-purpose spaces. The multi-level playground with a sandbox, playhouse, a slide built into a hill, merry go round, and other equipment welcome children multiple times throughout the day – to have fun, while getting their bodies moving.
In closing the "Trust Me, Play is Learning" workshop, Mrs. Goetschel provided five tips to parents on how to continue encouraging play-based learning at home and help their pre-schoolers become more independent.
1. Take the time. Children need time to do things. Help them practice putting on their own shoes for example. Don't rush them. This will help them build their independence. You can even make a game out of it.
2. Give positive encouragement. Praise your child and encourage them when you are doing activities together.
3. Be a role model. Mirror, or role model, the behaviour you want your child to adopt. You can even be silly. Sometimes this creates the most impact – and brings a smile to their faces.
4. Keep your ears open. Listen to your child and become involved in their play.
5. Give responsibilities. Give your child small opportunities to help build self confidence. Small tasks that they can complete successfully will go miles in increasing self esteem.
For more information about ISL, please visit http://www.isl.ch. ISL is located at Chemin de la Grangette 2, 1052 Le Mont-sur-Lausanne. Admissions are currently open for the 2015-2016 academic year.