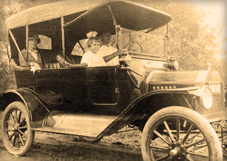 This new agreement will enable us to provide the guidance and standards to help ensure those vehicles stand the test of time. - Gary Pollak, Program Manager, Ground Vehicle Standards for SAE International
WARRENDALE, Pa. (PRWEB) November 20, 2014
SAE International's Motor Vehicle Council (MVC) announces plans to work with the Historic Vehicle Association (HVA) to develop and document best-practice guidelines for the preservation, restoration and responsible use of historic vehicles.
The committee will comprise a diverse cross-section of HVA members, including top level restoration experts, historic vehicle museum/collection curators, automotive preservation consultants, and technical judges from leading Concours events.
"For many people, automobiles are much more than just a way to get from one place to another; they are part of their history," Gary Pollak, Program Manager, Ground Vehicle Standards for SAE International, said. "This new agreement will enable us to provide the guidance and standards to help ensure those vehicles stand the test of time."
Mark Gessler, President of the HVA and Vice President of the Fédération Internationale des Véhicules Anciens, formally proposed the idea of creating guidelines to SAE International's Motor Vehicle Council this past spring.
"Saving America's automotive treasures requires thoughtful development of best practice principles," Gessler said. "We are pleased to be working with SAE International on this pilot effort to involve restorers, conservators and engineers in this important endeavor to preserve automotive heritage."
SAE International is looking for qualified people with the expertise and interest to serve on the committee and help develop guidelines. Those interested should contact Gary Pollak at [email protected] or 1-724-772-7196.
The U.S.-based Historic Vehicle Association is the largest such one in the world, with over 360,000 members. It claims there are about 2.75 million historic-vehicle owners in the U.S. and Canada, with annual mean spending per owner of about $12,500.
SAE International is a global association committed to being the ultimate knowledge source for the engineering profession. By uniting more than 145,000 engineers and technical experts, we drive knowledge and expertise across a broad spectrum of industries. We act on two priorities: encouraging a lifetime of learning for mobility engineering professionals and setting the standards for industry engineering. We strive for a better world through the work of our philanthropic SAE Foundation, including programs like A World in Motion® and the Collegiate Design Series™.