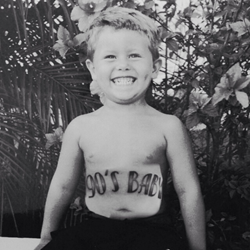 Los Angeles, CA (PRWEB) November 19, 2014
Coast 2 Coast Mixtapes presents the release of the "Faded" single by G-Funk music artist Mike Slice. This project, produced by legendary producer/artist Warren G, is currently available for download on the Coast 2 Coast Mixtapes website.
This year is the 20th anniversary of hip-hop classic Regulate...The G-Funk Era, but when Warren G released his immortal hit, his brand new artist, 18-year-old Mike Slice, wasn't born yet. The story of how Warren and Mike Slice connected is as surprising as their new song, "Faded."
Created at California Sound Studios in Lake Forest, California, "Faded" is built with the melodic bump of an unforgettable Warren G production. Presumably about partying, Mike Slice imbues the word "faded" more nuanced and artful meaning. A supremely gifted lyricist with skill for making words perform magic tricks, Mike grew up emulating raw rap gods like Big L and Cappadonna. On "Faded" he bends and blends syllables, telling a story about a girl and a relationship fading away.
Mike and Warren's own story seems fated: One day in 1990s Orange County, a family named Griffin moved in next door to the Salas family. The Salas's had a young son named Michael, who befriended the Griffin's young son, little Warren. The kids played football, rode skateboards. What Mike didn't realize was that little Warren's father was hip-hop G-Funk architect Warren G.
"One day my mom told me there was tour buses parked outside the house," Mike says." I guess Warren was going on tour, I don't know what tour, I was just a kid. My mom told me our neighbor was a hip-hop artist."
Mike remembers one subsequent afternoon when "Warren G came to my house and gave my brother and his friends a bunch of CDs, signed 'em. Looking back it was a huge deal. The first song of Warren's I heard was 'I Want It All' [the horn-soaked title track from Warren's 1999 album], even though people always think it must have been 'Regulate'."
Mike began rapping with friends – "isn't that how it always starts?" – and at age 16 performed locally at the Observatory in Santa Ana and the Grove of Anaheim. When his friends went their separate ways, Mike retreated to his basement create a CD of his own music. Recognizing her son's dedication, his mother passed it to Warren's wife at a gas station for Warren to check out.
"I got the CD but I didn't listen to it," admits Warren. "I just thought, that's that little kid who lives next door. Then one day I went to work at a studio, and he was there. I said, 'What are you doing at this gangsta studio!'"
Mike Slice picks up the story. "I didn't hear back from Warren but I didn't expect to. I was going forward with my music. My mom has always been behind me, and she showed me a magazine article about this studio that Snoop Dogg owns in Lake Forest. So I went over there and paid for them to record me. They treated me as I wanted to be treated, they mixed my song properly. They invited me to keeping coming on back. One day Warren G showed up and saw me there: 'You're my little neighbor, what are you doing here?' Him seeing me record that day was surreal, but that's how we linked."
Warren was astonished. His little neighbor had grown into a precocious teenager and a wizard on the mic. Call it circumstance or serendipity: Mike had a versatile voice suited to the next era of Warren's G-Funk sound. The pair began working together in earnest, and in fall 2014, Warren took Mike on select dates of the powerhouse "How The West Was Won" tour featuring legends including Snoop Dogg, Ice Cube, and Too $hort.
"Being in the studio with Warren is super different," says Mike. "He's really smart, he knows a lot about making real music and how the industry works. It's more than good, it's a blessing. He teaches how things really work, no sugarcoat."
Warren G and Mike Slice are currently in the studio making magic. "Faded" is the first fruit of their collaboration. Keep up to date with Mike and Warren on twitter at: @MikeASlice and @Regulator
About Coast 2 Coast Mixtapes
Coast 2 Coast Mixtapes are the most widely distributed mixtapes in the world, with over 100 million downloads/plays generated by over 200 volumes officially hosted by major artists. Coast 2 Coast has a solid reach in the new music industry with a digital magazine, DJ coalition, industry tips blog, yearly convention, and more. Coast 2 Coast Mixtapes represents a unique opportunity for artists of all urban genres, from major to indie. For more information, visit http://www.coast2coastmixtapes.com.