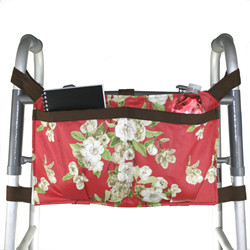 My mother loves her new walker accessories! She's happy to go out and about and express her personal sense of style.
Dallas, TX (PRWEB) November 21, 2014
Finding fashionable walker accessories was a challenge until now. Jeanne&Anne, a mother-daughter collaboration, is debuting a new line of personal walker accessories manufactured in the U.S. and made from 100% cotton. The collection features more than 40 unique and fun designs available in two different sizes, including a few masculine options. Prices range from $15 to $55 and can be found on the company's website, JeanneAndAnne.com as well as Amazon.com.
Gayle Tremblay, a former luxury retail executive who spent more than 25 years working as an officer of Neiman Marcus, is the president and founder of Jeanne&Anne. Gayle's mother, who assists in the design process, suffered health setbacks requiring her to use a walker. Gayle was motivated to create the line after noticing a void in the market for unique, personalized walker accessories.
"The line is inspired by my lovely 87-year-old mother who never leaves home without a wonderful handbag and colorful accessories to complement her wardrobe," said Tremblay. "When Mom suffered a few setbacks with her health and needed a walker to get around, I began to look for fun, stylish walker accessories to make her life a little easier and found nothing."
Gayle's mother has been instrumental in making sure the walker bags combine both functionality and style. Each tote is designed for easy attachment using Velcro™ straps and contains no zippers or closures. The large walker bags are created to fit most standard walkers and do not need to be removed from a walker to collapse it. The mini totes are designed to hold a cell phone or other small personal items.
"After discovering most of the available walker accessories were utilitarian but not suitable for my mother's "fashionality", I came to realize there were no perfect matches for her," said Tremblay. "So, voila! Jeanne&Anne was born. Jeanne is my mother's middle name and Anne is mine."
About Jeanne&Anne
Founded by Gayle Tremblay, a former luxury retail executive who spent more than 25 years working as an officer of Neiman Marcus, Jeanne&Anne is a company dedicated to developing products for people who need a walker or have other mobility challenges. Jeanne&Anne is based in Dallas, TX and all products are manufactured in the U.S.A. For more information, please visit the company website, http://www.JeanneAndAnne.com.
###