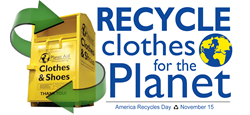 Baltimore, MD (PRWEB) November 20, 2014
Planet Aid helped organizations and businesses nationwide recycle more than 29,000 pounds of clothes and shoes in celebration of America Recycles Day.
America Recycles Day is a nationally recognized day organized by Keep America Beautiful and dedicated to promoting and celebrating recycling in the United States. Planet Aid's nationwide campaign, Recycle Clothes for the Planet, was an effort to spread awareness of the importance of textile recycling.
Americans only recycle about 15 percent of their clothing, but it is estimated that 95 percent of all clothes and shoes can be resold or repurposed in some way. Recycling textiles has numerous environmental benefits and helps lessen the burden on municipalities to dispose of our unwanted clothes.
Planet Aid teamed up with more than 50 schools, PTAs, businesses, religious groups, nonprofits, and other various organizations to recycle textiles in 13 states through clothing drives and special events.
Planet Aid is a nonprofit organization whose mission is to inform, mobilize and inspire individuals and communities to work together to bring about worldwide environmental and social progress. Planet Aid funds sustainable development programs in Africa, Asia, and the Americas using the proceeds from the clothes it recycles in the U.S. For more information on Planet Aid, visit Planetaid.org.