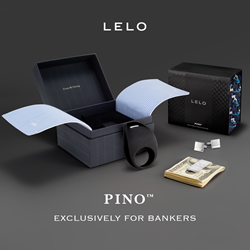 PINO™ is the ultimate stimulus package, the most exclusive couples ring in the world and is aimed at the Wolves of Wall Street and Gordon Gekkos of our communities.
Stockholm/San Jose (PRWEB) November 20, 2014
Swedish luxury intimate brand LELO has today revealed a new luxury sex toy designed exclusively for bankers. The new PINO™ is the first pleasure object ever created to satisfy the hedonistic sexual cravings and excesses exhibited by members of the financial world, with LELO's promotional video a testament to the role PINO™ will play in bankers' lives.
Steve Thomson, LELO's Head of Marketing said: "PINO™ is the ultimate stimulus package, the most exclusive couples ring in the world and is aimed at the Wolves of Wall Street and Gordon Gekkos of our communities. They're rarely satisfied and always looking for new limits to push, so PINO™ is about meeting those demands and adding a new adventurism to their sex lives."
Why is LELO launching PINO™ for bankers?
Bankers demand to be the best inside the boardroom and the bedroom, but recent changes in LELO customer buying behavior and industry-growth have prompted the launch:

6% of LELO online sales in 2014 delivered to the cities of New York, Tokyo and London arrive at financial offices and stock exchanges directly.
71% of respondents to LELO's global sex survey in the +200,000 USD pay bracket owned more than five LELO products and continued to request more stimulation.
The sex toy market has transformed into a 15 billion dollar industry, and as a result LELO is taking the lead in targeting more defined consumer groups.
"Can you think of a more demanding group to design a sex toy for?" continues Thomson. "For most of us, sex is one of the most wonderful, pleasurable experiences in our lives. In the male-dominated, testosterone-drenched context of banking, it's an obsession, and that perhaps explains the demands LELO receives and delivery to financial institutions. Bankers are both proud of their sex lives but also want to make sure they're doing it right. PINO™ is kind of an external consultant in that respect, and as a sex-positive, inclusive brand – LELO creating this product 100% serves a demanding group."
And what makes PINO™ special for bankers?
PINO™ builds your assets,
The new PINO ™ is a premium couples' ring worn by men during sex, with its stretchy silicone ring accommodating and enhancing men of all sizes. Its powerful vibrating motor brings enhanced pleasure for her, while ensuring the man will always close the deal with his partner.
It diversifies your position portfolio,
The unique form of PINO™ promises two ways to wear in any position the banker chooses, while its 10 stimulation modes, more than any other rechargeable couples' ring on the market. That means the banker's desire for experimentation will always be fully satisfied.
It promises a sound long-term investment,
This latest LELO is 100% waterproof, rechargeable, made of high-quality silicone and has the lifespan of 10,000 disposable rings, making it the soundest long-term investment.
And is always dressed to impress.
The PINO™ comes in the most luxurious packaging featuring a pin-stripe shirt inlay and signature silver LELO cufflinks with matching money clip, engraved with the banker's mantra Always Be Closing – it's the ABC of banking and a more satisfying sex life for both partners.
PINO™ is available in the colors of Black and Federal Blue. Since November 1, LELO has shipped more than 10,000 products to retail stores worldwide with PINO™ now available for USD $159 at all good sex toy stores and LELO.com/pino directly from today onwards.
"If you're not inside, YOU'RE OUTSIDE." – Gordon Gekko
"It was like mainlining adrenalin." – Jordan Belfort
NOTE to EDITORS: All PR enquiries and requests for images/videos/samples can be directed to LELO's Global PR Manager Kathryn Catney via pr@lelo.com. ALL Quotations and Citations should be attributed to Steve Thomson in all articles.
The Full video can be accessed here: https://www.youtube.com/watch?v=r8qTN6__RAg