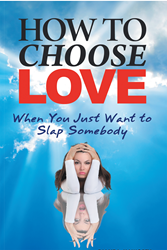 WASHINGTON (PRWEB) November 21, 2014
The average person gets angry four times a day. For a person with an anger problem, it's more like 12 times a day.
Author Diane Haworth certainly experienced frustration, overwhelm and anger as she struggled with the stress of her elderly father's declining health while balancing ever-changing family and work responsibilities.
Inspired by her struggles, her new book, "How to Choose Love When You Just Want to Slap Somebody," uses humor, real-life stories and exercises to help readers understand why they feel angry and spotlights different ways for them to consciously connect to the energy of love.
Each chapter offers fast, easy exercises that emphasize different techniques for readers to use during times of distress that will positively change their circumstances.
Readers will learn how to harness the power of gratitude as they explore various methods to release past hurt, grief and sadness resulting in a more joyful life.
"How to Choose Love When You Just Want to Slap Somebody" is an engaging self-improvement book that will encourage anyone seeking to better their life.
For more information, visit: http://www.DianeHaworth.com
"How to Choose Love When You Just Want to Slap Somebody"
By: Diane Haworth
ISBN: 978-1-4525-1493-2
Softcover retail price: $8.99
E-book retail price: $3.99
Available on Amazon, Barnes & Noble and Balboa online bookstores
About the author
Diane Haworth is an intuitive coach, author and speaker who has studied various spiritual teachings, coaching methods and energy modalities for over 20 years. Haworth opened a full time coaching practice in 2007 and currently resides in the beautiful Virginia foothills of the Blue Ridge Mountains with her husband.