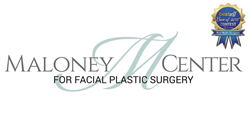 "..I had a younger, refreshed look in just two office visits without putting my business on hold to do it."
Atlanta, GA (PRWEB) November 20, 2014
Dr. Brian Maloney, an award-winning, double board certified facial plastic surgeon, and the founder of Atlanta's world-renowned Maloney Center for Facial Plastic Surgery, is helping his patients achieve remarkable facial rejuvenation results, in the office, without the downtime of facelift surgery. His unique approach was developed by combining one of the newest technologies with the newest injectable available on the market today. In Dr. Maloney's capable hands, new, Juvederm Voluma®, in conjunction with the new, FDA-approved technology of ThermiRF®, which utilizes radio frequency technology and infrared imaging, can provide excellent results for many patients, in the office, without facelift surgery.
"Many patients don't like the sagging that begins to occur in the mid-face, jowl and neck areas as we age," explained Dr. Maloney. "Combined with a loss of volume in the mid-face, we tend to have a tired, drawn look that makes us look much older than we feel, he explained. "By combining these two in-office treatments, (ThermiRF® and Voluma® injections) we can get a good result for many people who are unhappy with a neck or mid face that is beginning to relax."
A national trainer for Allergan, the company that manufactures Botox Cosmetic®, Juvederm® and Latisse,® Dr. Maloney was one of the first physicians to be certified to use Juvederm Voluma,® the company's newest hyaluronic acid filler. He was instrumental in developing the Voluma® injection protocol and travels extensively instructing other cosmetic doctors on injection techniques. Voluma® is FDA-approved to provide volume to the mid face and has proprietary properties that make it able to lift tissues more effectively while lasting up to two years. When combined with ThermiRF,® Voluma® provides the volume to restore youthful contours.
New, in-office ThermiRF® technology which capitalizes on advanced, NASA technology, utilizes radio frequency energy to specifically heat the underlying skin support tissues resulting in fat elimination and skin tightening. ThermiRF® is the first technology of its kind that delivers RF energy directly to the supporting layers of the skin, via a tiny probe introduced under the skin. As a result, a temperature conducive to maximum collagen production and skin tightening can be used without risk of burning the skin's outer layer. The targeted, therapeutic temperature has been scientifically proven to improve moderate skin laxity (looseness) in the jowl and neck areas with just one treatment. Patients with significant relaxation of the skin may benefit from additional treatments. Depending on the patient, Dr. Maloney may perform targeted liposuction in conjunction with the ThermiRF® to provide a more dramatic result. Both procedures are performed in the office and generally do not require patients to miss work for recovery- a definite plus for busy executives and business owners.
A recent case in point is an Atlanta business-woman who did not have the time available for facelift surgery. Dr. Maloney performed ThermiRF® in conjunction with neck liposuction, in the office, and followed up with Voluma® injections to restore the youthful contours in her cheek and mid-face, jawline, and neck areas. "Despite a bit of bruising, I had a refreshed, younger look in just two office visits and I didn't have to put my business on hold to do it," she stated.
According to Dr. Maloney, good candidates for this procedure include those who have mild to moderate loose skin in the chin, cheeks, jowls or neck and those who are not good surgical candidates. Dr. Maloney uses his expertise and computer imaging during consultation to determine if this new, minimally invasive combination is the correct "fit" for his patient's goals. For more information, or to book a consultation, please call The Maloney Center for Facial Plastic Surgery at 770.804.0007.
ABOUT THE MALONEY CENTER FOR FACIAL PLASTIC SURGERY
Headquartered in Atlanta, Georgia, The Maloney Center for Facial Plastic Surgery is an internationally renowned destination for excellence in facial plastic surgery and custom, individualized care. Dr. Maloney is an award-winning, double board-certified facial plastic and reconstructive surgeon. He is a National Trainer for Allergan, makers of Botox Cosmetic,® Juvederm,® Latisse® and NEW, FDA-approved Juvederm Voluma XC®. He is a fellow of the American College of Surgeons and a Diplomat of the National Board of Medical Examiners. Dr. Maloney's artistry and specialized approach has resulted in regular features on MSNBC.com, ABC News, Discovery Health, TLC, and CNN Headline News.