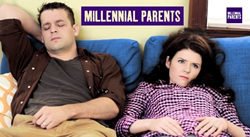 "MILLENNIAL PARENTS nails what it's like to be a parent nowadays."- Buzzfeed
(PRWEB) November 25, 2014
Dread going to holiday parties where the other guests might turn out to be total nightmares? That's the timely topic humorously faced by Annie and Kurt, two 30-something parents in the "Party Parents Pet Peeves" episode of the hit webseries Millennial Parents. They find themselves face-to-face with the lady who reads all her texts out loud, the guy who attaches a price tag to everything he talks about, the Mom who brags about "how her kids are already bilingual," but just keep repeating the same two Spanish words over and over again, the guy who keeps answering his phone (with his Bluetooth) at the table (and each ringtone is a different Limp Bizkit song!), and the party hosts who brag about how much money their parties cost. Annie and Kurt ultimately deal with these party pet peeves in a way that will make many viewers identify with them.
Millennial Parents is the brain child of co-Director/writer Jake Greene, the father of two boys both under three who draws much inspiration for the series from his own home life. Jake is also an author and speaker whose first book "Whoa, My Boss Is Naked" is an irreverent career guide for entry-level Millennial employees. His co-Director, Director of Photography and Editor Natalie Irby, directed "Almost Perfect," an official selection of the Los Angeles Women's International Film Festival, and served as Executive Producer of the documentary, "Will to Change," a collaboration with Blue Magnolia Films, which won the "Most Transformative Film" award at the 2014 Crossroads Film Festival. Millennial Parents stars Laura Eichhorn ("Annie") a TV veteran whose credits include "Bones," "Medium," and "Eli Stone," and Lea Coco ("Kurt") a former Blue Man in "Blue Man Group," veteran of the New York Shakespeare Festival, and Clint Eastwood's film "J. Edgar."
Millennial Parents episodes have been featured on Buzzfeed, Huffington Post, USA Today, LA Weekly, Fox News, DadLifts.com, and more for their brevity (each is two minutes or less), wit, and completely relatable look at defenseless young parents. Other Millennial Parents webisodes that have gone viral deal with singing "Inappropriate Lullabies" that the parents grew up with, the compulsion to create a family "brand" in social media "Rollercoaster World," and the inevitable identity crisis that leaves them pondering: "Are We Cooler Than Our Parents?"
Natalie and Jake's previous collaboration, "Hot and Bothered" won the "Best Short Film" award at the 2013 Twin Cities Film Festival and was the only comedy to screen at both the 2013 New York Television Festival and the 2013 Independent Television Festival.
For more information check out:
http://www.millennialparents.com | Youtube.com/MillennialParents | @MillParents | Facebook.com/MillennialParents | Instagram.com/MillennialParents
For interviewers with the producers or cast members, contact Allen Media Strategies' Erika Schaefer at (703) 589-8960 or erika(at)allenmediastrategies(dot)com.