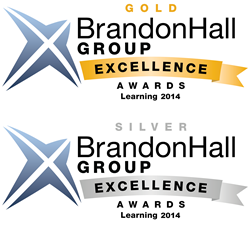 Our goal is not simply to meet the sexual harassment prevention compliance needs related to AB1825, but to go beyond that to create a more robust, comprehensive training experience.
(PRWEB) November 24, 2014
Workplace Answers and the City and County of San Francisco (CCSF) won coveted Brandon Hall Group gold and silver awards for excellence in training programs that eliminate barriers in information technology for people with disabilities. The awards were for Best Use of Section 508 Requirements for Training Programs and Best Custom Content.
As a government agency, CCSF must meet the requirements of Section 508 of the Rehabilitation Act (29 U.S.C. 794d) so all its employees receive the benefits and protections of required training programs. Workplace Answers and CCSF won the Brandon Hall Group Gold Award for Best Use of Section 508 Requirements for Training programs, as well as a Brandon Hall Group Silver Award in the Best Custom Content category, for "Preventing Workplace Harassment – CCSF CA Supervisors", a training course they partnered to develop. Workplace Answers and CCSF surpassed PepsiCo, Kaiser, BlueShield, the American Heart Association, and others to win silver in the Best Custom Content category. CCSF is the only city and/or county winning an award in this category.
"Preventing Workplace Harassment – CCSF CA Supervisors" is a two-hour course developed to meet sexual harassment prevention training law (AB1825), ensure employees understand their legal obligations, and educate them about harassment and diversity. The course begins with a customized cover depicting CCSF employees from various fields, so all employees feel represented and engaged from the start of the course.
"When we chose a training partner, we knew we needed a group that shared our ideological and technical orientation toward accessibility," said Micki Callahan, CCSF Human Resources Director.
Accessibility features in the training course allow employees with disabilities to navigate through the course using standard screen reader commands and functionality, but Workplace Answers enriched the program even more by converting all the robust Flash-based features, games and animations, and making them all 508-compliant. Workplace Answers also provided narration for the course, which assists users with certain needs and ensures the training is interactive and feature-rich for all employees.
"We are honored to be counted among the award recipients in both categories," Sondra Solovay, J.D., Director of Product Development at Workplace Answers, said. "We not only work hard to provide tailored training solutions for our clients, but to be one of the only providers of Section 508 compliant training. Our goal is not simply to meet the sexual harassment prevention compliance needs related to AB1825, but to go beyond that to create a more robust, comprehensive training experience."
"I'm honored to recognize this group of elite organizations with phenomenal programs across HCM functions. The winners truly exemplified excellence around the critical business dimensions across the award categories, including a high standard of performance in their organization and demonstrated clear, measurable business results through these innovative programs," said Rachel Cooke, COO of Brandon Hall Group.
"Our company is proud to receive submissions from organizations all over the world that have demonstrated major successes across their HCM business areas," said Brandon Hall Group CEO Mike Cooke. "The beauty of our new HCM Excellence Conference is that some of these elite executives will now be able to share lessons learned through panel discussions, Q&A discussions, executive roundtables and peer-to-peer networking. We are delighted to be able to share the winners' insights and case studies with a larger circle of colleagues."
The entries were evaluated by a panel of veteran, independent senior industry experts, Brandon Hall Group Sr. Analysts and Executive Leadership based upon the following criteria: fit the need, design of the program, functionality, innovation, and overall measurable benefits.
About Workplace Answers
Workplace Answers provides industry-specific compliance solutions for enterprise, higher education, and government organizations. Human resources leaders and risk mitigation teams trust our award-winning training content, services, and software to develop more engaged workforces and minimize exposure from complex legal requirements. For more than 20 years, Workplace Answers has worked with over 10 million users and thousands of organizations, including Johns Hopkins, MIT, Coach, Whole Foods, American Express, City of San Francisco, Human Rights Campaign and NTT America. The company is headquartered in Austin, Texas. Learn more about Workplace Answers at http://www.workplaceanswers.com.
About the City and County of San Francisco
San Francisco is a vibrant and dynamic city on the forefront of economic growth and innovation, urban development, arts, entertainment, and social issues. This rich tapestry of culture and ideas is sustained by the city's commitment to a quality way of life. CCSF employees play an important role in making the city what it is today and in shaping its future. The 28,000 CCSF employees provide an array of services, such as caring for children and families, keeping communities safe, fighting fires, improving city streets and parks, and driving buses and cable cars. CCSF is committed to equal opportunity employment.
About Brandon Hall Group
Brandon Hall Group is a HCM research and advisory services firm that provides insights around key performance areas, including Learning and Development, Talent Management, Leadership Development, Talent Acquisition and Workforce Management.
With more than 10,000 clients globally and 20 years of delivering world-class research and advisory services, Brandon Hall Group is focused on developing research that drives performance in emerging and large organizations, and provides strategic insights for executives and practitioners responsible for growth and business results. (http://www.brandonhall.com)