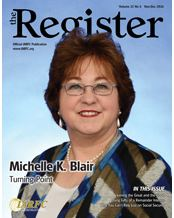 Being a published author is an excellent way for consultants to gain credibility and respect in their prospective field.
Middletown, OH (PRWEB) November 20, 2014
Being a published author, especially in a professional industry related magazine is an excellent way for consultants to gain credibility and respect in their prospective field. The Register has been the primary link between the IARFC and its members, prospects and corporate sponsors for the IARFC for over 15 years. Articles from many of the founding organizers of the financial services industry have appeared within its covers.
"Our 2015 editorial calendar reaches out to our financial consultants to help them run their practices," said Editor, Wendy Kennedy. We feel the Register is an important benefit to the IARFC member."
Themes on tap for 2015 are: Toast to Your Success, Commitment to Education Excellence, Accreditation, Financial Plans, Coaching & Mentoring and Transformations. Each of these themes can address the seasoned professional as well as someone new to financial practice. The Register also includes articles written for the consumer which can be used by the RFC in communications to clients, prospects and local media.
"The 2015 May/June issue of the Register will be dedicated to the accreditation process and the path that the IARFC has chosen to follow to obtain this status," said CEO Ed Morrow. "I am particularly excited to update our members and the consumer about what this will mean for our Association and its members."
There are other ways for you to be published within the Register. The Register Round Up column solicits short answers to specific questions and In the News section prints specific happenings to the Association's members.
For those who are wishing to submit articles please download a copy of the calendar from the IARFC and follow the submission guidelines and deadlines. The current issue of the Register can be read online at http://www.iarfc.org.