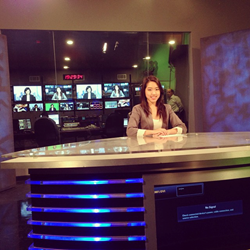 Christine is a true diamond in the ruff, and to believe that she taught herself English when she was a child in South Korea by listening to American Pop Music makes her story even more incredible
Los Angeles, CA (PRWEB) November 19, 2014
The Korean acting crossover sensation, Christine Kim has been signed by the international talent firm, Dessler Media Talent. Dessler media Talent will be representing Christine Kim by exclusively showcasing her talent as a news anchor to all of the major markets in the United States.
Kim caught the eye of DMT's president while shooting an interview for a korean language news station in Los Angeles in early November. Willem Dessler, CEO and founder of DMT was impressed by Kim's overall stage presence and her ability to get questions across as a host. Dessler remarked, "Christine is a true diamond in the ruff, and to believe that she taught herself English when she was a child in South Korea by listening to American Pop Music makes her story even more incredible. We are truly excited to introduce Christine to the American broadcast news market. She can deliver the news in English with an absolutely perfect American accent as if she has lived in the States her entire life."
Dessler Media Talent will be showcasing Christine Kim as a lead anchor to all of the major network affiliates this season.