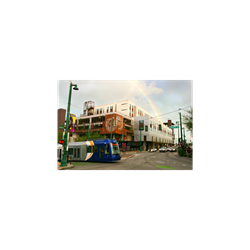 'The City of Tucson's Park Tucson program is excited to partner with a company of the high caliber of Scheidt & Bachmann to improve the customer parking experience at our managed parking facilities' - Donovan Durband (Park Tucson's Program Administrator)
Tucson, AZ (PRWEB) December 09, 2014
Software as a Service (SaaS) is proving to be a more efficient option for parking operators and owners looking to implement their parking management systems. The City of Tucson, Arizona is the latest municipality to update its parking technology by using entervo.cloud for its parking access revenue control system. The City's Park Tucson division recently partnered with transportation solutions provider Scheidt & Bachmann USA to update the parking access and revenue control systems for the City's multiple parking facilities.
Park Tucson's project to replace the parking management system for five of the City's major downtown off-street garages include Centro Garage, Depot Plaza Garage, Pennington Street Garage, Main Library Garage, and City/State Garage. The parking facilities primarily offer parking for transient, monthly, hotel and event parkers. This project will transition the City's off-street parking operation from a semi-manual operation to a fully automated operation. "The City of Tucson's Park Tucson program is excited to partner with a company of the high caliber of Scheidt & Bachmann to improve the customer parking experience at our managed parking facilities" announced Park Tucson's Program Administrator Donovan Durband. Currently, three of the five garages are not equipped with automated self-payment equipment.
One of Park Tucson's primary concentrations of the project, in addition to implementing a centrally managed automated system, is the need for the payment system to be PCI-compliant. "We understand the concerns for operators and owners to operate in compliance with industry requirements, especially with the relevant conversation about PCI compliance" says Jeff Sparrow, CAPP, Scheidt & Bachmann's Vice President of Sales. "Our commitment to Tucson's PARCS project is to ensure that the solutions we implement in each parking facility align with the City's goals to provide a seamless and secure parking experience for their customers while reassuring the City that their systems are compliant in all aspects, from the manufacturing of our equipment to credit card payment methods". Scheidt & Bachmann's entervo software solution is PA-DSS validated.
Scheidt & Bachmann offers Park Tucson a variety of tools to facilitate partnerships with local businesses to promote parking in the Tucson's Central Business District. Scheidt & Bachmann will work to incorporate the new Sun Link modern streetcar, which runs within a block of all of Park Tucson's public garages in Downtown Tucson, into the operation. Tucson's new streetcar system links Park Tucson's parking facilities with four business districts and the University of Arizona, and connects residents and visitors with cultural amenities, entertainment areas, athletic events, and festivals. "The new parking access and revenue control system coupled with Scheidt & Bachmann's entervo central management system will allow us to better serve the parking public by providing more reliable and convenient means of accessing and paying for garage parking," says Durband. The installation is expected to commence the first quarter of 2015.
About Park Tucson
Park Tucson offers conveniently-located on-street parking, parking garages, and parking lots in Downtown Tucson and along the Sun Link modern streetcar route. The Program also manages resident and non-resident on-street permit parking programs in neighborhoods around the University of Arizona and the business districts along the Sun Link line. It offers parking near government and near other offices in Downtown, as well as near cultural, retail, dining and entertainment venues from the Mercado District on Tucson's West Side to the University of Arizona Health Sciences Center area. For parking information call (520) 791-5071 or email Park Tucson at ParkTucson(at)tucsonaz(dot)gov.
About Scheidt & Bachmann
Scheidt & Bachmann has been a leading international transportation solutions provider since 1872. The family-owned German company operates two of its largest divisions – Parking Systems and Fare Collections Systems – in the U.S. market from its subsidiary headquarter in Burlington, MA. The Parking Division offers parking access and revenue control systems to various industry clients including airports, hospitals, universities and municipalities. All of the software and hardware equipment are made internally at the S&B factory either in the U.S. or Germany. The company prides itself on maintaining a reputation as the top leader in the industry through its focus on innovation, reliability, flexibility and service. Scheidt & Bachmann USA will be celebrating its 20th year of service to the US Parking Industry in 2015.