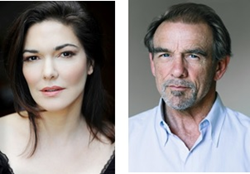 We are pleased to bring professional talent of this caliber to work with our students in Hollywood production scenarios, which better prepare them for careers after school.
Santa Fe, NM (PRWEB) November 19, 2014
The Film School at Santa Fe University of Art and Design (SFUAD) will host actors Laura Harring and John Diehl on campus Nov. 17–21 for the third annual Shoot the Stars!™ program. Harring and Diehl will play lead characters in "Oasis Motel" and "The Disposables," two short films written, directed, produced and edited by students.
Harring is best-known for her role in the haunting, enigmatic David Lynch film, Mulholland Drive, for which she won the American Latino Media Arts (ALMA) Award for Outstanding Actress in a Motion Picture. She has regularly appeared in film and television from the 1990s to today, including lengthy appearances on shows such as Gossip Girl and The Shield. Harring has worked with Denzel Washington (John Q), John Travolta (The Punisher) and Forrest Whitaker (The Shield), and she co-starred opposite Javier Bardem in Love in the Time of Cholera. Her recent credits include NCIS: Los Angeles and Law and Order: Criminal Intent.
Diehl has accumulated a staggering 140 professional credits to date in his television and film career. He first came to prominence as one of the secondary leads in the legendary television show Miami Vice. Since then, he has guest-starred on one award-winning series after another over three decades: Beauty and the Beast, L.A. Law, ER, The X-Files, NYPD Blue, The West Wing, Friday Night Lights, Lie to Me and Scandal. One of his most memorable turns in the past decade was his season guest-starring as Assistant Chief Ben Gilroy in The Shield.
"Oasis Motel," a contemporary drama written by Film School major Julie Wittrock, explores what happens when a middle-aged man (Diehl) attempts to rekindle a brief romance (Harring) from his youth. Set against a country music backdrop, "Oasis Motel" will have a rich soundtrack with several songs composed by SFUAD Contemporary Music Program faculty member Tom Adler, produced with student vocalist Maggie Johnson and student musicians, and recorded and mixed by students in faculty member Scott Jarrett's Music Recording class. Senior Bonnie Burchfield, director, co-produced the Shoot the Stars! Season 2 film "Mister Stapleton." SFUAD juniors Carlos Silva and Brendan Sauer will co-produce the film.
"The Disposables" is a comedy-farce written by film majors Dylan Hamilton-Smith and Keegan Moore. It was inspired by the backstory of the lead character from the hit Web series "Enter the Dojo," which is written and directed by and stars Film School alumnus Matt Page (who has acted in Manhattan, Longmire and Breaking Bad). Page will also appear in "The Disposables" alongside stars Harring as Kiki Nass and Diehl as Xander Placid. Senior Peter Crowder will direct the film, with juniors Matthew Krekeler and Anastasia Gendelman serving as co-producers.
"We are pleased to bring professional talent of this caliber to work with our students in Hollywood production scenarios, which better prepare them for careers after school," said Chris Eyre, chair of The Film School at SFUAD. "Year after year, SFUAD students make incredible short films with actors they have grown up watching on television and film. This year, many of the other departments across the SFUAD campus are collaborating with the Film School by offering everything from original songs to wardrobe to providing actors for other speaking roles."
SFUAD Performing Arts Department students and other local actors will also be involved in the productions, including actress Amber Midthunder (Banshee, Drunktown's Finest and Longmire), who will play Cindy in "Oasis Motel"; Elias Gallegos (The Last Stand, Fortunate Son and Husband for Hire), who will play the New Henchman in "The Disposables"; and Morse Bicknell (Breaking Bad and Manhattan), who will play a German doctor in "The Disposables." SFUAD alumnus Brenden Wedner (The Dark Knight Rises, The Avengers and Paul) will also have a role in "The Disposables." Professional mentors from the film industry participate across all major departments, including cinematography, directing, grip and electric, production, sound, and hair and makeup. SFUAD students will create a number of promotional videos and "behind-the-scenes" mini-documentaries to support the Shoot the Stars! productions.
During previous seasons of Shoot the Stars!, SFUAD students worked closely with Jordana Spiro (The Mob Doctor, Trespass and Dexter), Richmond Arquette (Se7en, Fight Club and The Curious Case of Benjamin Button) and Wes Studi (Avatar, The Last of the Mohicans and Dances With Wolves), as well as top Canadian independent film and TV actor Luke Kirby (Take This Waltz, also starring Michelle Williams and Seth Rogen). To see trailers and other promotional videos for Seasons 1 and 2 of Shoot the Stars!, visit https://vimeo.com/channels/filmatsfuadshootthestars.
About The Film School at SFUAD
The Film School at Santa Fe University of Art and Design offers a relevant, hands-on BFA curriculum that emphasizes production skills, business savvy and storytelling across multiple film and video platforms. Films such as True Grit and Cowboys & Aliens and TV dramas such as Longmire have been shot at the university's Garson Studios, where students have the opportunity to intern on professional productions on two motion picture soundstages—at 14,000 and 7,500 square feet. The Film School also has its own 2,200-square-foot soundstage and green screen. The Screen, a popular destination within the Garson Communications Center, shows some of the greatest works of world cinema daily for students and the public.
About Santa Fe University of Art and Design
Santa Fe University of Art and Design is an accredited institution located in Santa Fe, New Mexico, one of the world's leading centers for art and design. The university offers degrees in arts management, contemporary music, creative writing, digital arts, graphic design, film, performing arts, photography and studio art. Faculty members are practicing artists who teach students in small groups, following a unique interdisciplinary curriculum that combines hands-on experience with core theory and prepares graduates to become well-rounded, creative, problem-solving professionals. As a Laureate International Universities Center of Excellence in Art, Architecture and Design, the university boasts an international student body and opportunities to study abroad, encouraging students to develop a global perspective on the arts. Santa Fe University of Art and Design is accredited by The Higher Learning Commission and a member of the North Central Association, http://www.ncahlc.org.