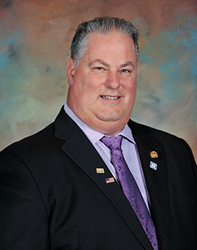 ORLANDO (PRWEB) November 19, 2014
The Association of Pool & Spa Professionals (APSP) has recognized Robert Blanda, president of Mill Bergen Pool Center in Brooklyn, NY, as the 2014 recipient of the CBP Certified Building Professional® of the Year Award.
The CBP of the Year Award, now in its eighth year, is given annually to a CBP who has advanced the pool building profession through outstanding achievements and dedication to the industry.
Blanda received this peer-nominated award during the 2014 International Pool | Spa | Patio Expo in Orlando.
"APSP is extremely pleased to honor Bob with the 2014 CBP of the Year Award," said APSP President and CEO Rich Gottwald. "His construction of indoor, basement and rooftop pools and spas have earned him numerous design awards, but his service to the industry is equally impressive."
Blanda has volunteered with APSP for 26 years. On the national level he currently serves on the APSP Board of Directors and leads the APSP Builders Education Committee. He is also past chairman of the APSP Builders Council and is an instructor. On the local level, he has held leadership positions in the North East Spa and Pool Association (NESPA) and the Metro Chapter of NESPA.
A supporter of licensing to improve the quality and image of pool building, Blanda has assisted in government relations and advocacy issues involving new pool licensing laws in the state of Connecticut, New York's Long Island Nassau and Suffolk counties and now a new initiative in New Jersey and Rockland County of New York.
"Bob exemplifies service to others not only in his activities with the pool and spa industry, but his commitment to his local community through Kiwanis Club and rallying his peers to donate products and services needed to build a pool for a disabled Iraqi War veteran," said Gottwald.
APSP's CBP designation is earned through a standardized written examination that measures knowledge of residential and commercial pool and spa construction. Applicants for the designation must meet industry experience requirements and, once the designation is earned, participate in ongoing education to maintain the certification. The program emphasizes a commitment to ethical standards and to the highest standards of construction and workmanship through adherence to national pool and spa standards.
Blanda joins a prestigious list of past winners that includes: Dan Johnson, CBP, Swim Incorporated; Richard Dal Pino, CBP, Dal Pino Quality Pools, Inc.; Jeff Mitchell, CBP, Dynasty Pools; Joe Vassallo, CBP, Paragon Pools; Tommy Johnson, CBP, CSP, Johnson Pools & Spas; Lew Akins, CBP, Ocean Quest Pools by Lew Akins; John C. Romano, CBP, CSP, All American Custom Pools & Spas; and Al Rizzo, CBP, CSP, Rizzo Pool & Spa.
For more information about the CBP program, visit APSP.org's CBP of the Year page or call 703-838-0083 ext. 274.
•••
About APSP
The Association of Pool & Spa Professionals (APSP) is the world's oldest and largest association representing swimming pool, hot tub, and spa manufacturers, distributors, manufacturers' agents, designers, builders, installers, suppliers, retailers, and service professionals. Dedicated to the growth and development of its members' businesses and to promoting the enjoyment and safety of pools and spas, APSP offers a range of services, from professional development to advancing key legislation and regulation at the federal and local levels, to consumer outreach and public safety. APSP is the only industry organization recognized by the American National Standards Institute to develop and promote national standards for pools, hot tubs, and spas. For more information, visit APSP.org.
Connect with APSP on Twitter, Facebook, YouTube and AQtheMagazine.com.