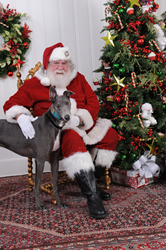 This is the second year Behnam Rugs have provided us one of their stunning oriental rugs to use for our Christmas pictures with Santa.
DALLAS, TX (PRWEB) November 20, 2014
Behnam Rugs is pleased to announce their participation with the Greyhound Adoption League of Texas's annual GreytStore Charity Holiday Shoppe's special Santa pet photos. Behnam Rugs is donating an Indian rug this year to the Shoppe to serve as a beautiful background for the portraits.
The GreytStore Charity Holiday Shoppe is hosting portraits November 22, 23, 28, and 29th. This year, family and pet portraits will be taken by professional photographer John Hudson (between 1-5pm). Santa will be available for portraits on November 22nd and 23rd. Appointments can be made at the Sign Up Genius page, but walk-ins are welcome.
"Greyhound Adoption League of Texas, Inc. (http://www.GALTx.org) is very appreciative to Behnam Rugs for their generous commitment to our organization. This is the second year they have provided us one of their stunning oriental rugs to use for our Christmas pictures with Santa. This kind gesture reveals their level of community involvement," says Susie McQuade, Co-Founder.
The rug is an 8'x10' Indian Persian Bijar design rug from India. The navy and burgundy hues in the rug are festive and complement the Christmas tree and other decorations. The rug has a 100% wool pile with a 100% cotton foundation. Behnam Rugs lists the retail value of the rug at $2200. "We are proud to give one of our rugs to Greyhound Adoption League of Texas for the Santa photos," says Ben Tavakolian, owner of Behnam Rugs. "It is just one way we are giving back to our community."
The GreytStore has holiday and everyday gifts for dogs and cats and their owners. The store sells Thunder shirts, toys, decorative collars, and much more. For the humans, the store offers jewelry, loungewear, home and garden decorations, and many other accessories.
BEHNAM RUGS
Since 1978 Mr. Ben "Behnam" Tavakolian of Behnam Rugs Persian Rug Cleaner and his team have been sharing three generations of rug care and rug family knowledge in the Dallas area. They assist customers in picking out just the right hand made new, semi antique and antique rug from the large quantity of fine rugs at the grand showroom, repair and hand washing facility located at 18000 Preston Road Dallas, TX. 75252. Behnam Rugs is online at http://www.behnamrugs.com.
GREYTSTORE CHARITY HOLIDAY SHOPPE is located at 5803 Greenville Avenue between Southwestern and Lovers Lane. All breeds are welcome. For more information go to http://www.galtx.org or call 972-503-4258.
GALT is a 501 (c) (3) non-profit all-volunteer group dedicated to placing all greyhounds, primarily those that competed and trained for racing, and sight hounds into loving homes. GALT facilitates the adoption of greyhounds by providing kennel services and foster homes along with their medical needs, including spay and neuter, assisting them in the transition from track-life to home-life, and educating the public about why the greyhound has been a favored companion dog for more than 4,000 years. To learn more about GALT go to http://www.GALTx.org.
.