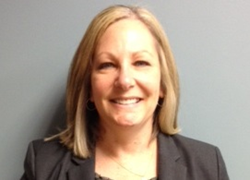 We engage Associates immediately, upfront, and often during their first year and beyond.
Norfok, Virginia (PRWEB) November 19, 2014
Having been a Senior Vice President in several Fortune 500 firms over the past 20 years, Kim Moffa knew what she was getting herself into when she became the first Chief Administrative Officer (CAO) at A. Reddix & Associates (ARDX). Growth through positions in the banking and pharmaceutical industries showed her how important it is to have a business strategy that aligns with the organization's mission. Kim enjoys the challenge of strategic organizational growth and corporate positioning. The quest for challenge landed her at ARDX. She was attracted to ARDX mainly because of her interaction with President and CEO, Angela Reddix, whose background is in organizational development and human resources management. Angela understands business strategy and growth which intrigued Kim and she was hooked. Kim likes the idea of making her mark on a small company with entrepreneurial spirit and ARDX fits the bill.
Being the CAO is a big job even at a small company! Kim oversees talent acquisition, employment relations, associate development, contracts, and benefits administration. Basically, it amounts to getting Associates in the door, keeping them at ARDX, and exiting them if necessary. Once a candidate is selected to interview, all of the players must understand that they reflect the ARDX brand. Every experience from the phone screen to welcoming the candidate to orientation must be positive. Kim's overall message to her staff and ARDX managers is "Engage – Engage – Engage!" This message is carried throughout the employment lifecycle, "We engage Associates immediately, upfront, and often during their first year and beyond. Starting on Day-One, new Associates participate in our comprehensive, week-long New Hire Orientation Program. We check-in with them at frequent intervals throughout their entire first year. Giving and receiving feedback early and often is beneficial to both the new Associate and the organization. We truly care about our Associates and their continued success at ARDX."
Kim is building metrics to measure success, and will tweak the process as needed to make it more effective. On a monthly basis, Kim reports to leadership on the status of ARDX recruiting and retention, and she is proud do say that ARDX's retention rate is better than the national average as reported by the Bureau of Labor Statistics.
Kim says that technology has both positive and negative impacts on talent acquisition. On the plus side, sites like LinkedIn provide transparency in that everyone can see the skills and experience listed, making it less likely that candidates will embellish on those sites. Unfortunately, technology has also made it easier for people to copy and adapt cover letters and resumes which may not truly represent their talents. In addition, some sites make it easy for individuals to post anonymous, inaccurate information online without verification. One very significant change is that job seekers in the past were looking for a career. Today's candidate is more likely to be looking to boost their skill-set and choose a job that will look good on their resume. Leaders have to shift their mindset to understand that not all turn-over is bad. A percentage of turn-over can be attributed to the new millennial-trend to keep looking for new opportunities.
Candidates are drawn to ARDX for a number of reasons. ARDX has a great reputation with clients and currently works on important programs such as implementation of the Affordable Care Act. ARDX also provides extraordinary benefits. ARDX demonstrates compassion for Associates by not only providing health insurance coverage for Associates, but ARDX also provides generous coverage for families. In addition, ARDX sponsors community projects including Healthcare Academy (HCA ®) and the Women's Wellness Celebration (WWC ™), as well as sponsoring local charities. Finally, ARDX encourages learning across all Associate levels. ARDX University is an internal training program that features classes on everything from public speaking to programming. ARDX also provides tuition assistance for degree-seeking Associates, an excellent leave package, and many other unique benefits.
Engaging Associates at every level and stage of the process is the key to success. ARDX excels in this area. The organization has full-staff quarterly meetings to share progress and updates on new opportunities. Divisions host team building exercises and outings to increase team spirit. The President's Advisory Council meets every two weeks to share Associate concerns and ideas. ARDX also sponsors leadership development programs to ensure all levels of staff are continually growing. Kim attributes much of ARDX's success to the unique leadership style of the CEO, "Because of Angela's background, she gets it…she sees the pain points and connects this to training at every level so Associates can be successful."