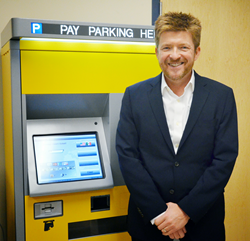 Martin's forward thinking approach to the parking industry complements Scheidt & Bachmann's vision to move forward as a dynamic innovation leader in the parking access and revenue control systems market.
Burlington, MA (PRWEB) December 04, 2014
Leading transportation solutions provider Scheidt & Bachmann USA recently announced the introduction of parking professional Mark J. Martin as the company's Executive Vice President of Operations for the Parking Division. Martin, who started at the Burlington, MA headquarters in October, is responsible for overseeing the project management and technical support groups on a national level.
Scheidt & Bachmann's parking access and revenue control system division offers equipment and software management solutions to clients such as airports, municipalities, and hospitals across North America. The company is a dominant provider in the market on both coasts as well as in the Midwest where the company is currently installing the PARCS at Chicago O'Hare International Airport.
"The continued growth of our company requires that we strengthen our team to respond to new opportunities," comments Scheidt & Bachmann USA's President John MacDonald. "Mark's fresh perspective will bolster our executive team with decades of experience and knowledge in the parking industry. We look forward to his contributions in our mission to better service our current and future clients."
With over 18 years of reputable leadership, Martin possesses a wealth of parking experience. Prior to joining Scheidt & Bachmann, the military veteran held positions in various areas of the parking technology and manufacturing industry, including field service engineering and national project and program management. "Through my experience in a variety of roles, I have been fortunate enough to be in positions which have presented the opportunity to work with and lead strong teams of professionals," reflects Martin on his background. "And what I have found is that aligning the most talented people within an organization with educated and sophisticated clients, who know what they want and have the highest of standards, is what creates the greatest opportunities for mutual growth and success."
In addition to his continued commitment to growing the areas of project management and support operations, Martin is passionate about leading the parking industry in the areas of innovation, sustainability and efficiency. Between 2010 and 2014, Martin's achievements included being a co-founding partner of a parking application startup in partnership with BMW that was groundbreaking in its response to evolving market demands. In addition, during this period, Martin was also credited for his pioneering efforts as a co-founder and member of the board of directors of the non-profit group Green Parking Council which has created the sole standard for sustainable parking solutions.
Martin's forward thinking approach to the parking industry complements Scheidt & Bachmann's vision to move forward as a dynamic innovation leader in the parking access and revenue control systems market. "I am humbled by this new role within Scheidt & Bachmann USA," expressed Martin recently. "I believe we now have an extremely powerful opportunity to develop and deliver programs which bring together the myriad of talents of our teams of highly skilled project management, support and technology professionals in a fashion which will further enhance our client relationships and share of business in the industry."
In preparation for his impending responsibilities, Mark will be spending time at various regional Scheidt & Bachmann offices to better understand the local client projects. He recently represented the company at the National Parking Association in Las Vegas in October. For further information on Mark Martin's expertise and his new role at Scheidt & Bachmann, please contact phinquiry(ta)s-b-usa(dot)com.
About Scheidt & Bachmann
Scheidt & Bachmann has been a leading international transportation solutions provider since 1872. The family-owned German company operates two of its largest divisions – Parking Systems and Fare Collections Systems – in the U.S. market from its subsidiary headquarter in Burlington, MA. The Parking Division offers parking access and revenue control systems to various industry clients including airports, hospitals, universities and municipalities. All of the software and hardware equipment are made internally at the S&B factory either in the U.S. or Germany. The company prides itself on maintaining a reputation as the top leader in the industry through its focus on innovation, reliability, flexibility and service. This year, Scheidt & Bachmann USA is celebrating its 20th anniversary as an establishment in the U.S. parking industry.