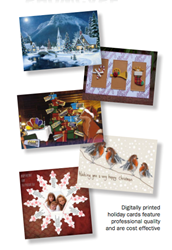 Sunrise does it all in a cost-effective manner with best-in-the-business turnaround times, perfect for those holiday procrastinators.
Chicago, IL (PRWEB) November 25, 2014
Many websites already offer customized greeting cards, but most of them fall short in terms of quality, speed, or service. Holiday greeting cards from Sunrise Digital http://www.eprint123.com/category/holiday-cards take holiday cards to the next level. They offer a huge variety of options from paper: white, color, pearlescent, translucent, or metallic, envelopes: standard or custom to other more exotic materials such as clear film, frosted polycarbonate, rigid vinyl and other synthetic substrates. Some highly custom brand new options include opaque white ink which is available for printing on clear and colored substrates. White ink can be printed under, over, or blended with 4-color elements for special effects. New, heavy substrates up to 18pt cover or 20pt rigid vinyl are great for heavier ornament cards. Choose from common card sizes 4.5"x6", 5"x7", 5.5"x8.5" or your own custom size. Sunrise provides a turn-key solution to card sending with in-house mailing and fulfillment. Simply provide artwork and mailing list and Sunrise will take it from there.
There is something special about a paper holiday card arriving in the mail; it just feels more personal than email or text greetings. Even so, in this digital age, many people are going the easy route instead of dealing with the hassle of writing and mailing paper cards. Now what if there was an easy way to send traditional paper greeting cards without the same old headaches? That's where Sunrise Digital comes in.
High-end greeting cards are typically produced on top-quality digital presses such as the HP Indigo at Sunrise Digital, using true ink instead of toner. At over half a million dollars each, these presses cost many times as much as digital copiers. The quality difference is stunning. Vivid colors, sharp details, the traditional offset look separate Indigo digital printing from all the rest. With a long history of running every generation of Indigo since 1996, Sunrise Digital leverages its years of digital printing experience to offer the very best image quality HP Indigo has to offer.
Sunrise Digital guarantees the highest quality standards in their holiday card printing. The Indigo process ensures, sharp, detailed color reproduction which is a must in photo cards as well as full bleed printing at no additional charge. Sunrise does all this in a cost-effective manner with best-in-the-business turnaround times, perfect for those holiday procrastinators.
About Sunrise Digital
Sunrise Digital is an Inc. 5000 company established in 1988 and employs the most advanced equipment and technology, such as G7-certified HP Indigo and UV flatbed presses, laser engraving, and digital die-cutting, to create best-in-class color printing, short-run packaging, P.O.P. retail displays, and signage products. A privately-owned enterprise, the company is based in Chicago and sells products worldwide.