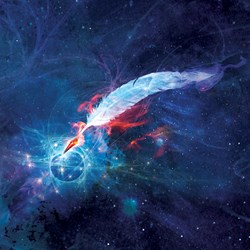 In Los Con's formative years, members included some of science fiction's biggest names: Ray Bradbury, Robert Heinlein, L. Ron Hubbard and A.E. van Vogt.
Hollywood, CA (PRWEB) November 19, 2014
Science fiction/fantasy fans and authors will explore creative and scientific ideas at this year's festivities at the 41st annual Los Angeles Science Fantasy Society convention on the 28th through the 30th of November, Thanksgiving weekend, at the LAX Marriott. The convention has an annual panel hosted by the L. Ron Hubbard Writers of the Future contest that includes judges Todd McCaffrey (Pern), Tim Powers (On Stranger Tides) and several past winners of the contest. The former winners include 2010 Grand Prize winner Laurie Tom, winners Brennan Harvey, newcomer 2014 winner Terry Madden and they will all participate and encourage want-to-be writers and illustrators to enter the contest as often as they can.
In Los Con's formative years, members included some of science fiction's biggest names: Ray Bradbury, Robert Heinlein, L. Ron Hubbard and A.E. van Vogt. The club itself was founded in 1934 making LASFS the world's oldest and continuously-meeting science fiction and fantasy club. Through the years famous and now current bestselling writers in the field continue to attend, such as Steven Barnes, Gregory Benford, John DeChancie, David Gerrold, Todd McCaffrey, Larry Niven, Jerry Pournelle and Tim Powers. They have all become regulars at the Con.
Convention Chairman, Scott Beckstead had this to say about the conventions guests of honor. "We welcome this year J. Michael Straczynski as our Writer Guest of Honor. Since creating Babylon 5, Straczynski has gone on to big-budget features, writing Changeling (Eastwood/Jolie) for which he received a British Academy Award nomination, as well as working on Thor, Underworld Awakening and World War Z. In total, in addition to a number of short stories and novels, he has written over 300 produced TV episodes, five movies, nearly four hundred comics, and five hundred articles. He won SFWA's Ray Bradbury Award, the Hugo (twice), the Eisner, the Inkpot, two Emmys that went to B5, the Saturn Award, and the SDCC Icon Award, which has only been given out eight times in its history."
"Our Artist, Richard Hescox, is quite a star as well. Richard has won awards in the field of science fiction and fantasy art, including The Jack Gaughan Memorial Award and the Chesley Award. Many of us already know our Fan Guests of Honor, Shawn and Colleen Crosby. Both Shawn and Colleen have been artists as long as I've known them and that goes back some twenty-five years. They have also been prop makers, costumers and actors as well. Their contribution to fandom in both professional and amateur roles is undeniable."
Writers of the Future contest judge Tim Powers sums it up as follows; "Loscon is always a good time, many different types of people, very interesting conversations, great story ideas and lots of parties!"
For more information on LosCon visit Loscon.org and for more information on the Writers of the Future contest and how to enter, go to http://www.writersofthefuture.com.