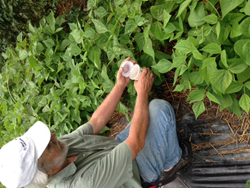 We've already lost so many family-run farms in this country
Asheville, NC (PRWEB) November 21, 2014
As Director of Living Web Farms, an education and research organic farm in western North Carolina, Patryk Battle oversees production of thousands of tons of organic food, which is donated weekly to the hungry. In addition to donations, the farm offers education on cooking, canning, gardening, energy, and farming to anyone who wants to learn. "I believe the right to safe, fresh food is universal," Battle explains, as he prepares for his weekly radio show, Back to the Garden. "It's a local show for local people, and focuses on ways for people to access better food, and grow food for themselves." This week, Battle is focusing on the Food Safety Modernization Act (FSMA), a proposed federal regulation that would govern farming practices in pursuit of a safer food supply.
FSMA, proposed originally by the Food and Drug Administration in 2011, would initiate updates to laws and planning requirements on farming practices and food handling. The original proposal caused a stir for owners of small, family-owned farms. "The rules are written for huge corporate farms, which is understandable. That's the dominant type of farm in our country," says Battle, who, prior to working as Director of Living Web Farms, owned his own farm operation in Burnsville, NC. "But we've already lost so many family-run farms in this country. The last thing we need is a one-size-fits all ruling for food safety. These requirements would put farmers like us out of business." Battle, and other farmers agree that some of the requirements, such as new irrigation testing rules, would be too costly for small farmers to undertake, and require labor that they could not support. Other arguments relate to how farms are defined within the proposal. Battle and others argue that unclear definitions could add unfair and additional regulations to farms with unique business structures, such as cooperatives and food hubs.
In response to the original proposal, the Carolina Farm Stewardship Association, a non-profit based in Pittsboro, NC, banned together with other NGO groups to petition Congress for revisions to the rules that would consider farms of smaller size. CFSA's Executive Director, Roland McReynolds, led the charge in North Carolina, with support from Patryk Battle and other growers. In two successes, CFSA and its cadre convinced the FDA to revise rules according to their requests. Now, the rules are once again up for public comment. McReynolds and Battle want to make sure farmers and eaters everywhere are informed of the legislation, and have a chance to speak up.
On November 20th, 2014, Battle will welcome McReynolds to the Back to the Garden radio program on 103.7FM – WPVM Asheville. The discussion, beginning at 7pm EST will focus on FSMA, the action taken by CFSA and others to represent small farmers, and the implications of the latest revisions on small farmers, consumers, and community food systems. McReynolds will discuss CFSA's suggestions for citizens to take action and make appropriate comments in support of family farms before the December 15th deadline. Listeners can call into the show and ask questions using the number 828.348.9686. The show can be streamed live by accessing http://www.main-fm.org.
For more information about FSMA and the newly proposed rules, visit http://www.carolinafarmstewards.org/food-safety-2/. For more information on Living Web Farms, visit http://www.livingwebfarms.org.