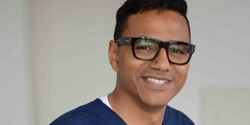 I believe Infusio is the future of anti-aging medicine.
Miami Beach, FL (PRWEB) November 20, 2014
To highlight a new partnership with Philip Battiade, creator of The Infusio Concept, Miami-based Dr. Michael Hall, founder of Hall Longevity Clinic, and Battiade will host a champagne & hors d'oeuvres reception with informational seminar and complimentary consultations to invited guests and press during Art Basel Miami Beach at the clinic on December 4th, 2014 from 6-9pm.
To RSVP for the limited availability event, please contact Ms. Yanet Pando at 305-672-4733. For press and media inquiries, contact Kathy at 310-425-9566 or email kathymarymcdevitt(at)gmail(dot)com.
For a limited time during the first week of December, patients suffering from chronic disease and illnesses, ranging from fatigue to cancer, will have the opportunity to book an exclusive, complimentary and non-invasive Global Diagnostics evaluation with Phil. Media outlets are also invited to schedule an appointment to test out the cutting-edge non-invasive diagnostic equipment.
With a combined 40 years of experience across general, integrative, and cosmetic medical practices and procedures, Hall and Battiade make the perfect team to bring the latest in longevity, holistic healing, and anti-aging techniques to the well-heeled residents of the American Riviera during one of the art world's most prestigious and celebrated yearly events.
Philip Battiade founded Infusio in Germany in 2009. With the motto "Innovation Through Integration," The Infusio Concept offers comprehensive, multi-level treatment options and symptom relief for patients suffering from cancer, lyme disease, fatigue, and a range of chronic and debilitating illnesses.
The Infusio Concept is based on Battiade's Five Steps To Health:

Immune Modulation
Substitution
Detoxification
Disease Specific Treatment
Mind Body Medicine
The Infusio Concept in Beverly Hills also offers a wide range of rejuvenation and spa services, from aromatherapy to intravenous vitamin and mineral infusions.
The new venture between Dr. Hall and Philip Battiade is a natural progression in the field of integrative medicine and next generation non-invasive cosmetic procedures. Said Dr. Hall of the partnership: "I believe Infusio is the future of anti-aging medicine."
Capitalizing on his internal and cosmetic medical background and his interest in the best of integrative medical practices from around the globe, Dr. Hall founded the Hall Longevity Clinic in Miami to offer patients a range of traditional and holistic treatment and healing options.
The clinic's many services include preventative, general medicine, and cosmetic procedures, including aesthetic facial rejuvenation and body contouring.
Philip Battiade, founder of The Infusio Concept, has established medical hubs in Ghana, India, Beverly Hills, China, Malasia, Marin County, South Africa and Germany. He is a well-known international medical consultant, educator, researcher, and expert spokesperson for integrative health. Philip Battiade is an international speaker lecturing on topics that include "Immune Modulation", "Finding a Cure for Chronic Fatigue", "Biological Cancer Treatment", "The Chemistry of Emotional Health", "Why Live With Pain", "The Mind-Body Connection", "Accompanying a Healing Process", and "Treating the Incurable". http://en.infusio.org/
Dr. Hall studied internal medicine at Alton Ochsner Medical Foundation and ophthalmic surgery at Weill Cornell Medical College-The New York Presbyterian Hospital and obtained a degree in health care management from the Robert F. Wagner Graduate School of Public Service-New York University. He went on to complete a community and family medicine residency and became a diplomate in the American Board of Family Medicine and Dr. Hall recently completed further training from the Institute of Functional Medicine-University of Miami-Miller School of Medicine. http://www.hallongevity.com/