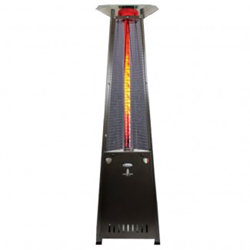 Representing the best of modern Italian workmanship, this impressive 8 ft. tall patio heater combines elegant design and functionality with superior quality.
Palos Verdes Estates, CA and New York, NY (PRWEB) November 21, 2014
While the Contract Furniture Company offers many different heating solutions, the newest additions to their collection are the Tower Heaters by Lava Heat.
These outdoor heaters feature a flame encased in a weather-proof glass tube that not only provides 360-degree heat distribution, but also acts like a beacon, drawing in customers with its enticingly warm glow. With an easy start ignition, optional remote control, and stainless steel construction that stays cool to the touch yet also withstands the elements, these outdoor heaters are a user-friendly, durable, and attractive addition to any patio dining area.
If floor space is an issue and the Tower Heaters don't seem like a workable solution, a space-efficient and elegant solution to cold-weather woes is the line of heated shade structures that are found at Contract Furniture Company. These tropical grade steel-frame umbrellas have integrated electric radiant heat (ERH) panels and lighting. Not only do they block out the elements and harmful UV rays, they also serve to provide shelter and warmth to outdoor areas, which can extend operating hours and help to eliminate seasonal downturns due to bad weather.
Regardless of the chosen heating solution, making an investment in customer's comfort is something that will make them feel warm, welcomed, and valued. Visit http://www.ContractFurniture.com or call 800.507.1785 today to speak with a Project Manager about how to incorporate a heating element in an outdoor space.