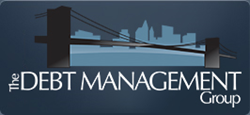 Brooklyn, NY (PRWEB) November 21, 2014
With the holidays rapidly approaching and holiday shopping already underway, The Debt Management Group helps shoppers financially prepare by taking preventative measures in order to avoid falling into a financial hole after the holiday season.
Consumers can avoid going into debt this holiday season by adopting and adhering to a strict holiday spending budget. The Debt Management Group encourages shoppers to prepare by creating a realistic spending plan and weighing it against their expectations. Bargain shopping may seem like a good way to save money on holiday gifts, however, it may be easy for shoppers to get carried away and exceed their budget, which is why The Debt Management Group stresses the importance of creating a spending plan and financially preparing for the holidays well in advance.
"People are often more interested in their monthly budget and what they can afford each month than they are on what they can save over the course of a whole year. People need to start thinking ahead when it comes to trying to relieve themselves of debt trouble," said John Diaz, spokesperson for The Debt Management Group.
Similarly, The Debt Management Group offers a variety of solutions, such as debt consolidation, to help shoppers manage their debt which allows them to better plan for the holiday shopping. The Debt Management Group's consolidation program works by negotiating with creditors in order to place one manageable debt sum onto one account. In addition to debt management, The Debt Management Group also offers financial planning solutions that allow clients to make informed investment decisions for their futures.
The National Retail Federation's holiday spending forecast is positive, anticipating that consumers are likely to spend more than they have in the six years following the Great Recession. Consumer confidence is at an all time high, with the average American household expected to spend upwards of $900 on holiday shopping. The Wall Street Journal predicts personal loans may be making a comeback for this holiday season, allowing shoppers to purchase big ticket items as well as take control over existing debt by paying it off over a fixed term with a lower interest rate.
"These programs make sense for certain consumers, especially because of the low interest but the payments are usually high. Most consumers who are in real need of debt consolidation look at the monthly payments moreso than they look at the lower interest and total principal paid over the life of the loan," explained Diaz.
About The Debt Management Group
Located in Brooklyn NY, The Debt Management Group provides in depth debt solutions to customers looking for financial salvation. For more information, please visit thedebtmanagementgroup.com