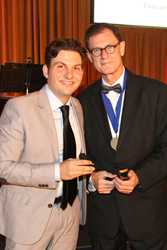 Our goal is to help our patients achieve a healthier smile and we are excited to work with a prestigious group of individuals who have the same goals as we do
Los Angeles, CA (PRWEB) November 20, 2014
The American Academy of Esthetic Dentistry (AAED) consists of members who are not only elite professionals in the field of esthetic dentistry, but who are also internationally known and recognized for their work. Prospective members of the AAED must be invited to apply and then meet prestigious qualifications before being accepted. The growth of the Academy is also limited in order to maintain only the highest levels of excellence, and Dr. Alexandre-Amir Aalam and Dr. Alina Krivitsky are now among its newest members.
"We are thrilled to have been accepted into the American Academy of Esthetic Dentistry. We are excited to belong to an Academy that not only promotes the profession, but also provides a leadership role for esthetic dentistry," responded Dr. Aalam.
In order to be granted membership into the AAED, there are certain qualifications that must be met. These qualifications include attending at least three of the AAED annual meetings and being nominated with written endorsement from at least three eligible Academy Fellow or Life Fellow members. The application is then reviewed with consideration of the achievements of the candidate in academic service, publication/editorial service, honors and/or awards, scientific presentations, and other service to the dental profession.
"We are completely dedicated to our patients and have been well-trained in the treatment of periodontal conditions so that we can provide our patients with individualized care and the best treatment options available. Our goal is to help our patients achieve a healthier smile and we are excited to work with a prestigious group of individuals who have the same goals as we do," said Dr. Alina Krivitsky about her recent membership into the AAED.
Dr. Aalam and Dr. Krivitsky are the only Board-certified periodontists in Brentwood. Dr. Aalam is a member of the American Dental Association and the American Academy of Periodontology. He is the first periodontist in the Unites States to have trained in and performed advanced-platelet rich fibrin, which enhances hard and soft tissue grafting procedures. Dr. Krivitsky is an expert advisor for "Surviving Beautifully," an online source that helps those with cancer-related beauty issues. She is also a Diplomate of the American Board of Periodontology and she has been awarded for her outstanding achievement and contribution to the field of Periodontics by the Western Society of Periodontology and the USC Research Committee. Dr. Krivitsky is also an active member of the American Academy of Periodontology and the American Dental Association.
"We are looking forward to attending next year's annual AAED meeting in Colorado as members and to be involved with the most elite professionals in the field of esthetic dentistry," commented Dr. Aalam.
Dr. Alexandre-Amir Aalam and Dr. Alina Krivitsky are Board-certified periodontists specializing in dental implants and gum and tissue diseases. They opened The CENTER, a periodontal office focused on providing patients with excellent and skilled care at affordable prices, with the goal of restoring oral health and aesthetic appearance. They are alumni of the prestigious Ostrow School of Dentistry at USC and are still heavily involved in academia and giving back to future periodontists at USC. They are also the only two Board-certified periodontists in the Brentwood area of Los Angeles.
If you or someone you know is interested in scheduling an appointment with the CENTER for Advanced Periodontal & Implant Therapy, we encourage you to contact (310)-826-8242 today.