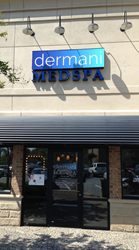 Atlanta, GA (PRWEB) November 20, 2014
Dermani Medspa, the premier Medical Spa in Atlanta, GA, is now offering Body Contouring and Skin Tightening at their offices in Atlanta, Johns Creek and Sandy Springs, GA. Body Contouring at Dermani Medspa is done using the newest and safest Radiofrequency technology. Fat cell death (apoptosis) is caused by deep heating fat to temperatures greater than at the skin's surface. Heat on the surface of the skin tightens the skin by stimulating collagen production. All of this results in up to 4 inches in lost circumference in areas treated!
Dermani Medspa is also now offering Skin Tightening. Skin and underlying fascia is strategically heated to a level that allows skin to smooth out removing cellulite and wrinkles.
These treatments must be done in a series of at least 6-8 treatments done once per week. Touch up treatments can then be performed once or twice per year.
Call 770-212-2242 or visit dermanimedspa.com/body-contouring-skin-tightening