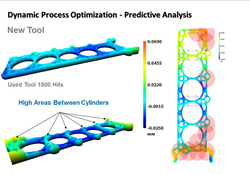 Ann Arbor, Michigan (PRWEB) November 20, 2014
Marubeni Information Systems (MSYS), a leading 3D vision supplier and strategic Asian partner with Coherix, Inc., showcased Coherix's high definition ShaPix technology to demonstrate its unique capabilities to visualize tool wear and to measure surface profiles, flatness and waviness of precision machined surfaces at JIMTOF2014.
JIMTOF is the largest scale exhibition in Asia for machine tools. There were 190 exhibitors and 10,213 attendees. Many attendees visited the MSYS booth specifically to learn about the latest in vision technologies.
Visitors to the MSYS booth could learn how tool life can be extended by utilizing ShaPix 3D micron level measurement capabilities to visualize tool wear. Manufacturers of precision planar surfaces on a prismatic part were able to view waviness, surface shape, and relations between multiple planar surfaces in one 3D image. Visitors saw the relationship between multiple critical mating surfaces in one picture, with no data interpretation required.
Coherix designs and delivers high-speed, high-definition, 3D metrology and inspection tools for product development and the management of manufacturing processes for the precision manufacturing and semiconductor industries. Headquartered in Ann Arbor, Michigan the company has technical centers in Europe and the Asia Pacific region. Coherix products are being utilized around the world at companies such as ASE, SPIL, Marvell, BorgWarner, Ford, Honda, Allison Transmission, Chrysler, General Motors, Micron, Infineon, John Deere, Volvo Technology Transfer and Aisin among others.
Marubeni Information Systems (MSYS) is a company dedicated to information and industrial systems operations. MSYS offers solutions to companies in all fields of industry, mainly through applications-oriented systems based on state-of-the-art technologies in computing, networking, software and services.