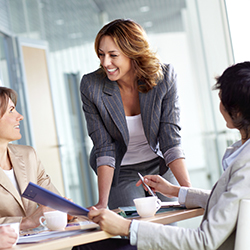 (PRWEB) November 25, 2014
SkillPath Seminars, the nation's premier business skills training resource since 1989, is excited to announce a brand-new local training event to benefit established women managers and up-and-coming supervisors alike. Leadership & Management Skills for Women is a two-day workshop focused on overcoming the obstacles and challenges women in leadership roles often face and developing the skills proven to move professionals forward in their careers.
In a lively, entertaining and interactive two-day presentation, SkillPath emphasizes that there's far more to leadership than gender. Leaders face the same challenges, deal with the same feelings and share the same goals—regardless of whether they're men or women. Unfortunately, sometimes women have to "prove themselves" and overcome unspoken rules, imaginary boundaries and contradictory messages to be considered as credible as their male counterparts. With this in mind, Leadership & Management Skills for Women covers all the issues women managers face in today's workplace, including addressing conflict promptly and directly … pushing back diplomatically when faced with unreasonable requests … asking others for feedback and using it to grow and develop … dealing decisively with problem employee behavior … finding a sustainable balance between their work and personal lives … and so much more!
The benefits of this critical training are clearly laid out in a letter from the SkillPath training staff: "It's filled with insights into the special and often-overlooked talents women leaders can bring to the table and cutting-edge tactics successful women leaders are using right now to make things happen in their organizations. [Participants will] master the specific set of skills and tools needed to carry out every one of their demanding responsibilities with unshakable confidence and competence."
As an added bonus, women at any supervisory level will enjoy the chance to get away from their hectic schedules and invest time with other women professionals in their area, sharing ideas, refreshing their skillsets and recharging their batteries—two days full of fun and facts led by a management expert with a distinguished track record of real-world success.
Consider this recent testimonial from an attendee in a similar SkillPath course—"The workshop was amazing! Exceeded my expectations and provided well-researched, organized and relevant information. I would highly recommend this workshop to new and current managers and supervisors." That sentiment is typical of the high praise SkillPath courses receive for presenting practical, real-world solutions in a fun and interactive atmosphere.
The cost of this two-day course is $299. Enrollment can be done by phone, e-mail or on-line. To sign up for classes or for more information on Leadership & Management Skills for Women, see http://www.skillpath.com. SkillPath also offers local seminar updates and special e-mail only discounts at http://www.skillpath.com/?emr.
About SkillPath Seminars:
SkillPath provides practical, convenient training opportunities for businesspeople who are ready to retool and recharge their professional careers. SkillPath's unique brand of training enhances skills, saves time and money and contributes to career and organizational success. SkillPath's public seminars, customized on-site coursework and take-away training resources keep careers on the grow. With more than 10 million people trained since 1989—at Fortune 500 corporations, small businesses, government agencies and not-for-profit organizations—they promise a great learning experience at each workshop or training conference. Their 100% money-back guarantee is proof of their commitment to everyone's success.