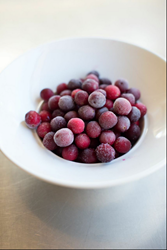 "We are now able to compete in a market space that is exponentially growing for the U.S. cranberry industry." ~ Scott J. Soares, Executive Director, CMC
Wareham, Massachusetts (PRWEB) November 25, 2014
The Cranberry Marketing Committee USA (CMC) announces that a recent change approved by the United States Department of Agriculture (USDA) now allows for the issuance of phytosanitary certificates for frozen cranberry shipments to China.
A phytosanitary certificate is an export document issued by the USDA's Animal Plant Health Inspection Service (APHIS) to the plant protection organization of the importing country. Until recently, an alternate certificate issued by the USDA had been accepted for frozen fruit but shifts in requirements presented challenges for shipments of frozen cranberries into China.
A discussion of this issue during a 2013 CMC meeting triggered a cooperative effort between interested growers, state officials, USDA and the CMC. This collaboration was proven fruitful this year with news of successful exports of frozen cranberries to China from the 2014 crop. Besides cranberries, blueberries and strawberries are also eligible for the new certification process with the program being implemented on a state-by-state basis.
"On behalf of cranberry growers and frozen cranberry traders across the US, we thank the USDA for their assistance and quick response on this important trade issue," said Scott J. Soares, Executive Director, CMC. "By issuing a phyto for frozen cranberries destined to China, we are now able to compete in a market space that is exponentially growing for the U.S. cranberry industry."
China, a target market identified by the CMC in 2012, continues to demonstrate great potential with an 86% increase for 2013 and a 104% increase in export volume seen through August 2014. For the 2013 crop year (September 2013 – August 2014) the CMC recorded an increase of more than 3 million pounds of cranberries being exported to China.
About the Cranberry Marketing Committee (CMC)
The CMC was established as a Federal Marketing Order in 1962 to ensure a stable, orderly supply of good quality product. Authority for its actions are provided under Chapter IX, Title 7, Code of Federal Regulations, referred to as the Federal Cranberry Marketing Order, which is part of the Agricultural Marketing Agreement Act of 1937, as amended. This Act specifies cranberries as a commodity that may be covered, regulations that may be issued, guidelines for administering the programs, and privileges and limitations granted by Congress. For more information about the CMC, visit uscranberries.com or follow @uscranberries and Cranberry Cravers on Facebook.